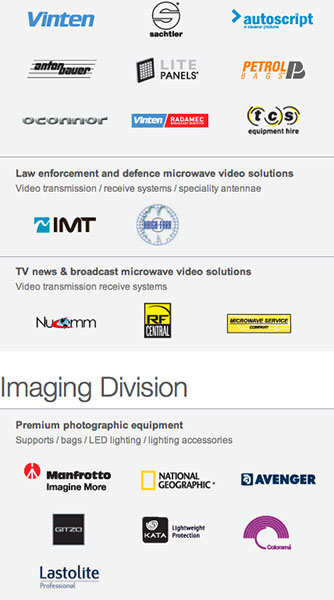 The Vitec Group plc successfully negotiates £100 million refinancing
Posted on Sep 18, 2012 by Alex Fice
The Vitec Group represents a huge group of Pro Video companiesThe Vitec Group plc (Vitec) has successfully refinanced £100 million of revolving credit facility with a syndicate of banks co-ordinated by Barclays.
Barclays, HSBC, RBS and Wells Fargo each provided £22.5m and UniCredit provided £10m. The new five-year finance package will enable Vitec to continue to develop their existing businesses and selectively acquire new companies to complement their strategic objectives.
The Vitec Group includes companies in the pro video world such as Vinten, Sachtler, Anton Bauer, Lite Panels, O'Connor, Manfrotto and Gitzo.
Vitec is an international group, based in Richmond, principally serving customers in the broadcast, photographic and military aerospace and government (MAG) markets. The company also designs and distributes systems and products used in broadcasting and live entertainment, film and video production and MAG.
Paul Hayes, Group Finance Director, Vitec Group plc said: "I greatly appreciate the support of our banking group, comprising of Barclays, HSBC, RBS, Wells Fargo and UniCredit, in arranging our refinancing. The new five year facility provides Vitec with appropriate facilities to meet our strategic objectives with a banking group where we have strong relationships."
Richard Bacon, the Relationship Director leading the deal for Barclays said: "The commitment of the banking group demonstrates a very positive view of Vitec's business and strategy, and will allow it the flexibility to move forward in its evolution."