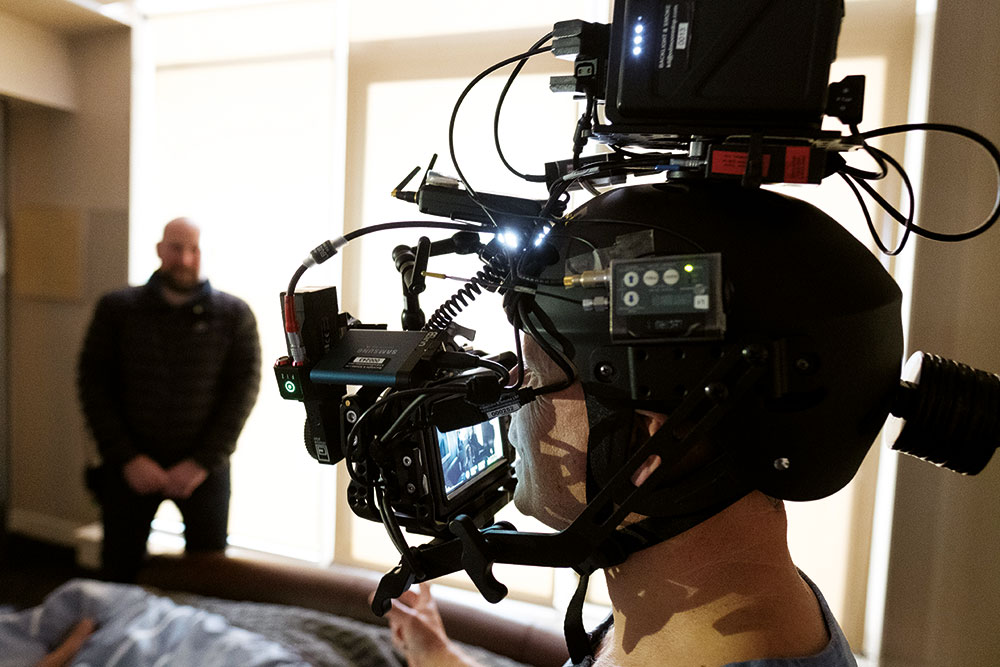 The smart media for cameras
Posted on Dec 6, 2018 by Julian Mitchell
Finally, professional camera manufacturers have realised that portable Samsung SSD media is the way forward for recording
ADVERTISEMENT FEATURE
At the start of this series on the use of portable Samsung SSD media we found that ingenious cinematographers had bypassed traditional camera recording media by deceiving cameras into thinking they were using other slower and more expensive products.
This small bypass technique introduced those shooters to the fast transfer world of the Samsung Portable SSD products, which gave them huge storage benefits along with rock solid performance and deep levels of security.
There was one camera manufacturer, however, who saw the benefits of Samsung's T range of portable SSD drives and produced a camera that used them as its primary recording media. Samsung's Portable SSD range was tested by Blackmagic Design and thoroughly recommended as the primary recording media for its first digital camera product.
New portable 4K camera
For Blackmagic Design's new camera, the Pocket Cinema Camera 4K, there is a superb number of input and output options: one of these is a USB Type-C output. Immediately, clever shooters and fans of Samsung's Portable SSD T5 saw an opportunity to connect this hugely popular drive to the new camera. Even camera accessory manufacturers saw how Samsung's Portable SSD T5 drives could benefit the new camera and made special rigs for the drives to encourage the use of the Portable SSD T5s.
One of these was cinematographer Ed Moore who has shot programmes such as Dark Heart, Red Dwarf, Shetland and Vera. He bought the Pocket camera very early and at the same time bought two 500GB Samsung Portable SSD T5 drives. "Everyone I know who is ordering the cameras is also ordering Samsung Portable SSD T5s because of the USB Type-C output. The camera also has in-built CFast and SDHC recording options but when you look at the cost per Gigabyte for those options the Samsung Portable drives come up trumps. The Portable SSD T5 drive is small and only 51g, with no moving parts and a shock-resistant internal frame. There's already a range of third-party accessories for mounting the drive on to the camera in all sorts of little places. I bought the Samsung drive as it was the one that all the forums were recommending; in the end I bought two 500GB drives.
"To be able to get them 'set ready' I looked to get small plastic cases that you usually put 'shot' media into. I also looked to get some rubberized mounting for the camera and they look great on the rig. The Samsung Portable drives attach to the camera cage with a small holder than fits on to the 15mm rod and clamps the USB-C cable so it doesn't get in the way."
ABOVE The Samsung Portable SSD T5 drive gives Ed about 90 minutes of 4K shooting. © Ed Moore.
POV shots
Initially, Ed will use the new camera and Samsung Portable SSD T5 recording option for 'C' camera shooting, especially as a helmet camera to give a POV angle. "The combination will also work for car rigs and other small bits and pieces. I also have a small gimbal which the camera will fit on. With the 500GB Samsung Portable SSD T5s I've got around 90 minutes of recording time in 4K so I don't have to worry about running out of storage space. They are ludicrously fast to offload as well, up to 540MB/s.
"This obviously makes the DIT happy as he or she gets the camera originals much quicker and can move them on to editorial as soon as possible. I bought two units, but should probably have bought another one so the camera loader can hold two, as the DIT might not be able to get one back to the camera immediately.
Pic © Ed Moore.
"As this rig is relatively new I haven't shot in earnest with it yet, but have done two battery recording tests where we filled the drives up six times in a row – it was rock solid. The Samsung Portable drives are fast, durable and secure devices – you can even edit off them. One thing in the back of my mind is I could use the rig for personal projects; I'd then be more than happy to cut footage off the Samsung Portable SSD T5. This would mean you're not drowning your laptop in Gigabytes of footage if you're out and about as you can cut from the Samsung Portable drive there and then."
With the popularity of this new camera combined with the Samsung Portable SSD T5 drive more people will realise what a superb performer the portable drive is in the media and entertainment sector.
Next month, we bring something new and very exciting to the professional video world – the new Samsung Portable X5 SSD. With read/write speeds of 2800/2300MB/s this type of throughput of data is unheard of in the professional world and very timely as data sizes are only likely to increase.