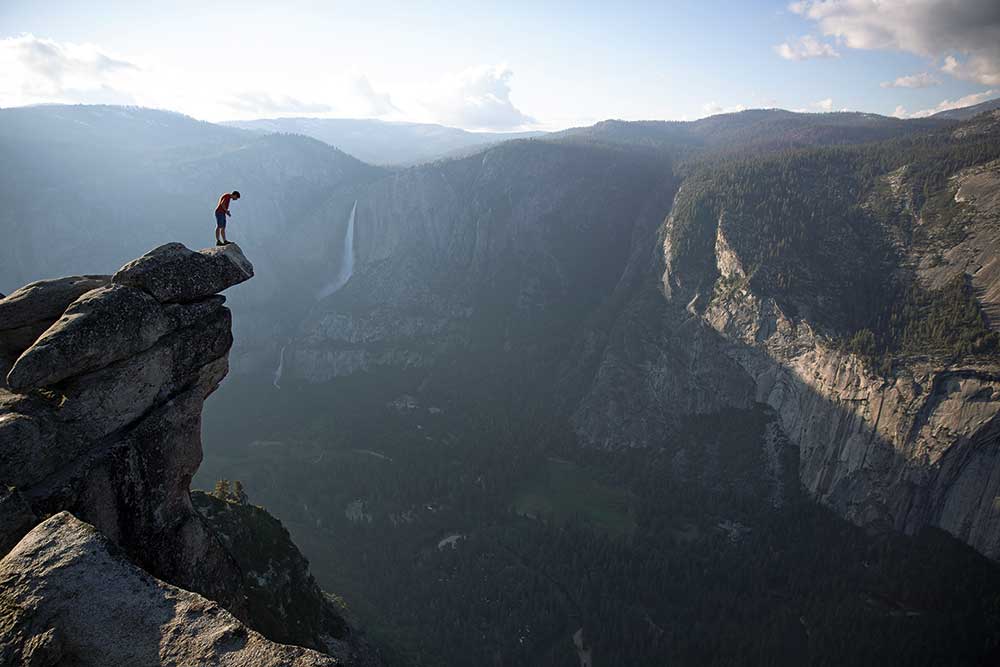 Gripping!
Posted on Nov 26, 2018 by Julian Mitchell
Climber Alex Honnold rehearsed his moves for a year before taking on the mighty El Capitan rock face – without ropes
Free Solo is a production that could hardly have been designed for anything but the big screen. The documentary, directed by Jimmy Chin and Elizabeth Chai Vasarhelyi, depicts climber Alex Honnold's ascent of the El Capitan rock formation in Yosemite national park. Made on June 3, 2017, Honnold's climb was the first ever without the use of safety equipment – the 'free solo' of the title. El Capitan is 3000 feet high, so in some ways no screen could ever be quite big enough to capture this achievement.
Jimmy is himself a hugely experienced mountain sportsman, having both climbed and skied on Mount Everest and a host of other imposing terrain features across Africa, Asia and South America. His credits include cinematography on the 2010 documentary 180° South and direction on Everest: Shooting the Impossible and Meru, which covers an ascent of the eponymous Himalayan peak. Jimmy is, in his own words, a climber who became a filmmaker, not the other way around. "I was a climber first. I just started to shoot a lot of climbers in my peer group… I was a photographer, then I became a filmmaker. When I first started shooting it was on transparencies – I was filming before the digital SLRs came onto the scene."
Honnold
Given the sheer risks involved in a production like Free Solo, it's no surprise to find that Jimmy, Alex and the rest of their team have climbed and filmed together for years. "The upper echelon of the climbing community is pretty small," Jimmy says. "I met [Alex] through the climbing community. He joined the North Face athletes team a little over ten years ago, and I've been a member of that for over 20 years. I was with him on his first international expedition to Borneo – that was the first time I shot with him."
Although Alex made his ascent of El Capitan's Freerider route in a hair under four hours, the documentary was produced over a period of nearly two years, with filming taking place in the spring, summer and autumn of 2016 and the spring of 2017, when the weather is most suitable for climbing. Despite the difficult circumstances, Jimmy was determined to pursue the best possible results. "For the kind of filming we were doing, high-angle and big wall, we were shooting on cinema cameras and cinema lenses because we wanted it to have that look and be shot at 4K. The fact that we were able to do that was one of the big achievements. A lesser team would have shot it with little DSLR lenses."
Camera crew for Free Solo included Jimmy himself alongside cinematographers Mikey Schaefer and Clair Popkin. Building a crew for such a production involves selecting from a very limited pool of people whose experience includes both climbing and camerawork. "Many of them are like me in the sense that they are professional climbers who have started filming over the years due to necessity, and people like me calling them, or people I've worked with
and helped mentor. I never, ever have to worry about them as climbers. There's absolutely no question for me that they're 100% on top of their game." Still, Jimmy adds, "they also have to have a very solid sensibility to what it's like to film people in this kind of scenario."
Crew safety
The key factor, inevitably, is safety. "The conversations we always have, especially with our crew members, is that you are always a climber first and you have to make sure that you're covering all your bases as a climber before you start filming. A very simple mistake up there could be catastrophic in terms of your climbing systems."
Perhaps unusually for a documentary, Free Solo was planned in shot-by-shot detail. "You have to remember that we spent two years filming on this specific route. We were training for this specific event and trained as Alex was training to do the climb. We were able to really become surgical about how we were going to shoot it. We had a long lens on the ground, we knew exactly where our camera team would be, we had remote cameras set up, we knew exactly how we were going to shoot it.
We couldn't ask him to go back and do it again… I'm pretty sure that every single shot we set up is in the film. I was also shooting a National Geographic assignment on top of it,"
Jimmy continues. "I was shooting on the Canon EOS-1D X so I could film and then switch over to shoot video. I had triple duty because I was directing as well… I'm using it as a handheld photo camera, no kind of rig on it. Everything is pared down to the minimum. Every ounce counts. You're up there, you have food and water for the day, your layers in case it rains, batteries… it adds up quickly when you're covering a lot of terrain in the vertical space. We don't have craft services. Everybody filming on the high-angle team has to be totally self-sufficient."
Drone free
Director Jimmy Chin and with co-Director Elizabeth Chai Vasarhelyi.
Perhaps surprisingly, given their popularity, there was very little use of drones. Jimmy tells us that "you can't film with drones in the national parks. In Yosemite we couldn't use drones [and] we didn't want to bother Alex with a little drone flying around, so we shot from very far away with a 1000mm lens." Usually, climbing is not an activity that leaves the hands free for camerawork, and Jimmy's team used special approaches to make the shoot possible. "Everybody on the team has the capacity to rig their own ropes and set up their own systems to free up their hands to shoot."
The 1000mm lens chosen for those long-distance shots was Canon's hugely capable Cine-Servo 50-1000mm T5.0-8.9 zoom, riding a Shotover mount on a helicopter. Jimmy chose the Red Epic Dragon 6K camera for this situation, seeking some extra, spare resolution to punch in even further. Most of the production, though, was shot with Canon equipment. "We worked with Canon on a lot of the production. Obviously the 50-1000mm is a very unique lens and something that was very specific to our needs. We used a lot of the Canon primes, and then shot on the C300 Mark II for a lot of it, in 4K… we really used all kinds of cameras depending on what we needed it for, but probably 75% of it was on the C300 Mark II."
Jimmy and his team used several of Canon's L-series EF zooms, including the 24-70mm f/2.8, the 16-35mm f/4, the 24-105mm f/4 and the 70-200mm, as well as the 14mm f/2.8 and CN-E 35mm T1.5 primes. With the drive for truly cinema-grade images in mind, Jimmy describes the CN7x17 17-120mm T2.95 Cine-Servo lens as "our primary lens for both vérité shooting and on the wall throughout the production."
The CN7x17 is a compact lens in the context of a zoom covering super-35mm sensors, but is still considerably bulkier than lenses often used for action sports and was, as Jimmy puts it, "hell to climb with. Huge packs. And the other thing is, it's very hard to build out your system on the wall, so we had to have these giant packs that could fit the camera system pre-built. After two years we were all in very good shape." Operating, he remembers, is "all handheld… you're bracing it against yourself. At the end of all the takes you can hear the cameraman breathing heavily because they're holding their breath. In the edit room you'd watch the shot finish and then you'd see the shot heaving up and down as the cameraman was breathing."
Grade
The film was graded by Stefan Sonnenfeld, alumnus of a huge variety of prominent feature films, at Company 3's facility in New York. Jimmy's preference was for a minimally affected image, with "everything looking as straight and realistic as possible," emphasising the reality of the situation. "We'd shot a lot of different camera formats," he says. "The C300s, 1D x, 5D Mark IV, the Alexa Mini, Red…" Jimmy is even willing to admit to a single GoPro shot in the film, though he would have preferred to avoid it. "100% no. We wanted cinema… we killed ourselves to carry those cameras up there."
"The other thing you don't see through the trailer was our vérité film crew. We had a high-angle team and we had a cinema vérité team that was shooting all the things on the ground. It was important to us that we had a vérité film. The reason the film stands up is that it's not a climbing film. It really dives into the emotional content around Alex's decision, meeting this girl and falling in love, it brings up a lot more questions. That is really what rounds the film out… it was really important not to make just a sports documentary. It had to have a lot of layers and guts to it." As for how you should see the film, Jimmy has a view on that, too. "You have to see it on the big screen," he finishes. "As big a screen as possible."