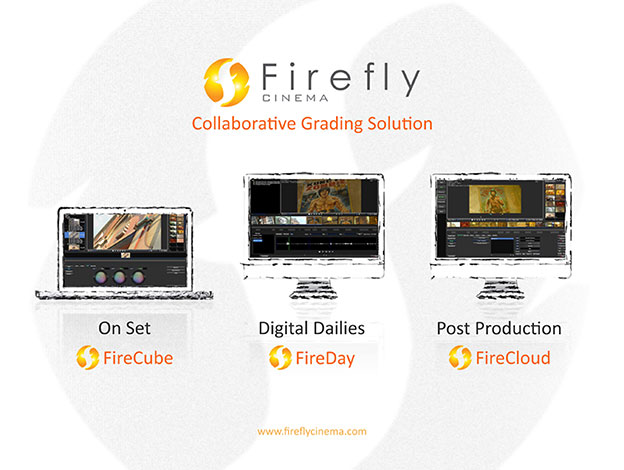 The 'Cloudification' Of IBC 2012
Posted on Sep 13, 2012 by Alex Fice
FireCloud is a colour grading finishing software that offers collaborative work, whether on the same or different sites. These collaborative functions are at the moment unique on the market. It's main features are conformance, editing, high end colour grading (unlimited secondaries, unlimited shape, simple special effects, cropping and scanning).
It is clear that IBC 2012 is full of clouds this year, with at least 70 plus cloud aware technologies at the show. There is a noticeable increase in comparison to last year and this is supplemented by three conference sessions.
The predicable cliché, every cloud has a silver lining, is so true and apparent here at show. Go to hall 2, 3, 7 and 14 and you will see every flavour of cloudification from secure tiered cloud storage, virtualisation, processing, rendering, transcoding, licensing to collaboration and pipeline management tools designed for production, post-production and broadcast. To get an impression of where the latest cloud technology is being used 'must see' companies are AFrame, Forbidden Technologies, Prime Focus, Tata Communications, Signiant, Equinix, Front Porch Digital and Firefly Cinema.
The way we produce, post-produce and deliver is changing at an unprecedented pace and the only real way to keep up is to use a technology which is scalable, practical, immediate and secure (yes, contrary to some, most cloud based applications use the same security as accessing your bank account online). In addition and probably the most important benefit to businesses and productions is using cloud services or products doesn't require an asset purchase. Businesses can now closely align themselves to the incoming projects and this is a general trend going forward.
The "Cloud" provides infrastructure and software extensibility never seen before, from 1GB to 1PB, to 5 to 1,000 licenses/instances for rendering or transcoding. The future of the industry and associated businesses will be supported by some kind of cloud service, if not many.
The term Cloud has always been a nebulous term due to the esoteric nature of the technology and variable perception of the technology and value to media. The emerging technology could easily be dismissed as impractical, unsecure, intangible and just not ready for the industry. For those who know this is far from the truth and there is an immense amount of effort and money been spent on existing and new products to become "cloud aware" or explicitly using the cloud technology. This is illustrated with exciting developments with Adobe Anywhere being the forefront of how to adapt mature yet evolving product lines with true transparent collaboration via a cloud platform.
Early pioneers like Quantel QTube, AFrame, Forbidden Technologies are now being complemented by cloud based/optimised versions of Aspera, Signiant, Digital Rapids, Lacie and many more appearing on a daily basis.
The practicalities of using cloud technology are relatively simple, 1) some degree of sustained connectivity, the faster the better depending on application, 2) embedded security through the network and the cloud resource (user defined  access), 3) user experience (UX) – transparency needs to be key.
The interesting thing about Cloud technology it is now all around us and it isn't going anyway. What seems like a novelty will soon become the norm. The industry needs the clouds albeit public, private or hybrid to ensure the successful development and utilisation in increased resolution, frame rate, colour depth, storage and formats (both acquisition and distribution).
Ben Dair is a Media and Entertainment consultant, specialising in product management, productisation and emerging technologies.