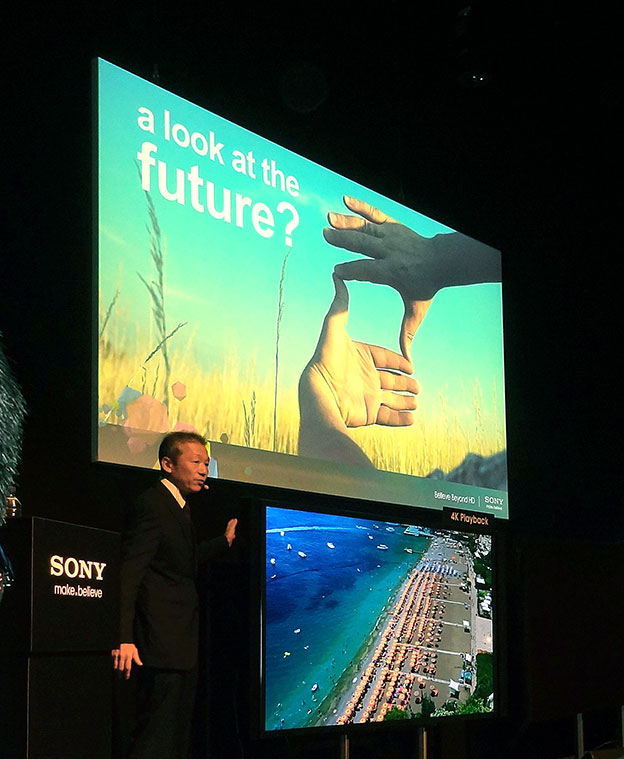 IBC 2012's Wow! Moment – Live 4K
Posted on Sep 13, 2012 by Alex Fice
Vice President of Sony's Professional Solutions Europe (PSE) business Katsunori Yamanouchi heralding 4K broadcast.
At Sony IBC 2012 press conference the new Vice President of its Professional Solutions Europe (PSE) business Katsunori Yamanouchi started the event with a demo that set the Sony message for the whole show. 4K – their message is clear and it looks fabulous. The demo was all you needed to believe that in a few years time 1920×1080 would fade in to the television history books. With SES' help (Europe's largest DTH operator) Sony was beaming 4K live from somewhere in Luxembourg to one of their new 4K Bravia sets sitting in front of us 'hot foot' from the IFA show. You could tell it was live as there was significant break-up and Thomas Wrede was there from SES, a more honest man you could not meet.
In fact it was the breezy but always authoritative Wrede that explained what was going on and how the 4K roll out would proceed. "SES serves many cable head ends in the US and we are servicing many of the emerging markets worldwide in Asia and Africa. We have been bringing HD to consumers since 2003 with over 1,300 HDTV channels transmitted over satellite – but that's not enough!
"Together with Sony we share the belief in 'Beyond HDTV' which is 4K transmission over satellite. So for the first time here at IBC there is live 4k being transmitted from our playout and uplink centre in Bertsdorf in Luxembourg. It's coming up from a transponder on our Astra 3b satellite and is being transmitted at a rate of 50Mbit/s in DVB S2 technology on to this new 84 inch Bravia display.
"The picture quality as you see is stunning and is I think what consumers expect as the next step in home delivery. I think we now have the whole chain to bring this in to the home actually I think much sooner than many of you might think.
"The capacity and bandwidth is available today and yes with the current technology and that is the H.264 technology. With the new technologies coming through like the High Efficiency codec HEVA which will be available next year with equipment and chipset coming out, we will be able to reduce that data rate to around 20Mbit/s which is similar to HDTV in MPEG2 in early 2000. So this makes it commercially viable for broadcasters."
The demo is also running on SES' booth in Hall One and it's worth a look just to realise that these types of demos are the future in the making and we can forget about the 3D hoopla for the time being as there is a new king technology unveiling itself.
Yamanouchi went on to explain that Sony would look to expand the broadcast 4K standard to 50/60p and even 120p.
Other Sony announcements included the launch of the PMW-150 handheld XDCAM adding to their range of broadcast quality HD422 50Mbps cameras from the PMW-100 to the PMW-200.
• Also new professional monitors – the PVM-741 OLED and LMD-941W HD LCD monitor – the first 9inch monitor to have a Full HD LCD panel resolution. Sony also celebrated 15,000 global sales for its OLED monitors.
• A two year strategic technology partnership with SIS Live that sees Sony cameras and technology fitted across its 20 strong fleet of HD broadcast trucks
• ITV has also chosen Sony camcorders for overhaul of regional news production using Sony HXC-100 cameras in studio, and PMW-500 and PMW-EX1 cameras for ENG.