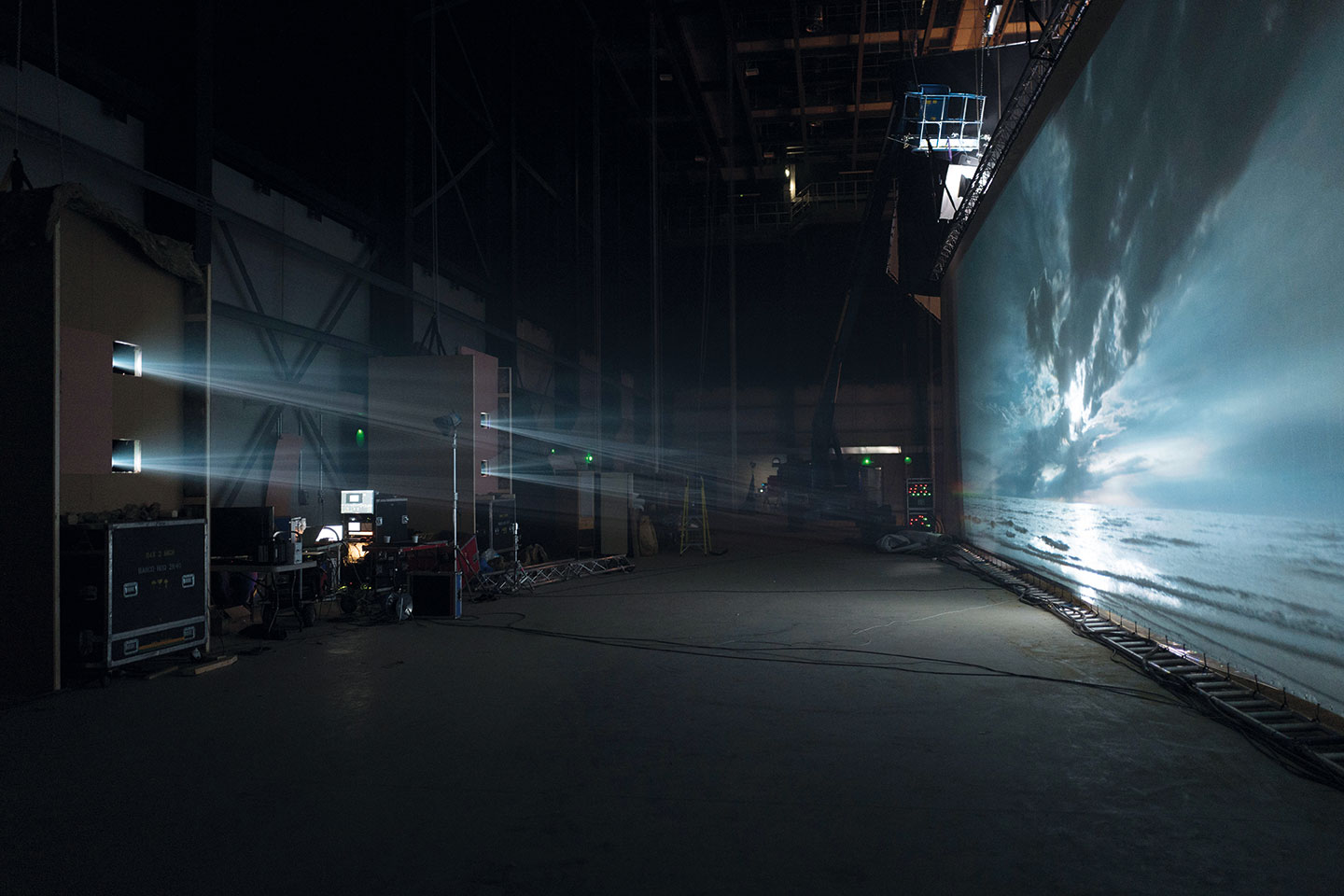 The Acting Project
Posted on Apr 6, 2018 by Julian Mitchell
The movie Film Stars Don't Die in Liverpool was a passion project that also featured a technology world record.
---
Words Madelyn Most
One fine Saturday afternoon at the BSC luncheon in July 2016, I overheard Lester Dunton say he built the largest back projection screen in the world and had applied for recognition in the Guinness Book of Records. Determined to see this for myself, then accessing permission and clearance to visit the impenetrable fortress that our once-lovely old Pinewood Studios has become, due to the security precautions required for filming the steady stream of Star Wars episodes, I entered the enormous 22,000 square feet of the newly constructed Building 10 with trepidation: no, anticipation.
Noticing Lester engrossed in conversation with his two projection technicians while checking the monitor with the DIT, I slowly approached the back of the stage, and felt an aura, a glow, of energy bounce on my shoulders. Gazing up at the massive transparent wall of light, a pinky/ochre sunset sinking into an indigo ocean, almost took my breath away, as I flashbacked to the many times I walked my dog on the beach in this light, trying to remember exactly why I ever left this to move back to the dreary darkness of Northern Europe.
  Jamie Bell with Annette Bening, who plays Gloria Grahame; Pinewood Studios becomes a Malibu beach
The back projection screen brings Malibu to Pinewood
Production Effects Supervisor, Lester Dunton, of Dunton PFX (Projection FX), was in the midst of aligning the cross hairs of a grid from four great, heavy computerised projectors that would overlap multiple images onto an 80-foot reflective screen. In another area, two more projectors mounted on cherry pickers were being repositioned to cast light onto the set and other actors.
Knowing Lester to be a one-man band, technical wizard, jack of all trades who grew up on film sets and was trained as a child by his almost Guinness Book of Records, inventor father we all call Uncle Joe, he learned to handle all things technically complex with diligence, precision, and patience. He was not to be disturbed in the flurry of simultaneous manipulations, so I retreated to a dark corner on the stage to observe.
Green screen alternative
"Doing things for real, in-camera, is fashionable these days," says Lester. "Using back projection has many advantages; the look and the feel is better than green screen or CGI, the cost is half or a third of other techniques. The time it takes is shorter, but it's especially the end results that make it worth it. The actors like it because they can see it. They are actually in a place and you can see the difference in their performance.
The film uses back projection to recreate the skies of California.
"I've worked with director Paul McGuigan before on Victor Frankenstein so I know Paul understands the value of back projection and doing things properly. We aligned stacks of powerful projectors to cover the giant screen, with imagery composited to a custom 4K x 1K resolution, to achieve his vision," says Dunton.
The painstaking procedure of meshing the horizontal and vertical lines together so that they blend into each other on the rectangular grid can take several long hours, so by now, my dizzy eyes wandered off to another area on the stage cluttered with 1970s period cars. There was a young woman operating an ALEXA camera while flagging reflections off the windscreen with the sparks (electricians) while still listening to Paul McGuigan give direction to the actors. Impressive; that must be Urszula Pontikos, the DOP.
On a budget
Film Stars Don't Die in Liverpool is described as an independent art house film with an absurdly low production budget price tag that I can't mention, but that producer Colin Vaines confirms is absolutely true. "Impossible!" I declared, considering a cast of characters that includes Annette Bening, Jamie Bell (the grown-up Billy Elliot), Vanessa Redgrave, Julie Walters and the scale and ambitiousness of the film shooting on multiple stages at Pinewood, the jewel in the crown of all British film studios which is considered the largest (and some say the most expensive) in all of Europe.
DOP Urszula Pontikos on set with the ALEXA.
Impossible, except this project happens to be a 20-plus-years labour of love for Barbara Broccoli, one of the UK's greatest and most prominent and prolific movie producers. She is making this at home, in the very studio she grew up on as a child, that her father (the much admired, venerated and loved Cubby Broccoli of Eon Productions) kept enlarging for his spectacular series of James Bond adventures.
Colin Vaines adds, "It's true that we made it for half our original budget. We shot for six weeks in London, Liverpool, and Pinewood with a series of fortunate coincidences, and with many of us forfeiting our salaries for the greater good of the project. We just had to do things differently. The script has been in development for so long, it was
one of those films that just wouldn't get made."
Coordinating many large moving components simultaneously, plus shooting back projection could be daunting/stressful/intimidating/ – even to older, experienced, veteran cinematographers, but Pontikos just seemed to get on with it without a fuss, even though it was her first big feature film that she was shooting under the glaring spotlight of one of the most prestigious film studios on the globe, and she had to paint her photographic imagery onto one of the world's largest back projection canvas ever created.
Film Stars Don't Die In Liverpool has since been recognised as achieving a World Record for the largest cinematic rear projection ever used in a film, by using multiple projectors on a 119.22m² (1283.37ft²) screen. You can watch the many Vimeos of Lester Dunton explaining the process on YouTube.
A glimpse of the huge scale of the back projection screen Lester built at Pinewood.
The story
Film Stars Don't Die in Liverpool is the story of the three diminishing years in the life of Film Noir and Oscar-winning Hollywood legend, Gloria Grahame, star of films including The Big Heat, In A Lonely Place, Oklahoma!, It's a Wonderful Life and The Bad and The Beautiful. She returns to the family home of her former on-off lover Peter Turner in Liverpool. Told by the very young, struggling thespian, the film weaves the threads of their happy carefree romance that exists in the past, with the more sombre reality of the present, where she struggles to ignore and deny the breast cancer that will ultimately snuff out the light on this once bright shining star.
Incarnating Turner's role in a powerful heart aching performance is Jamie Bell. Gloria Grahame's role is bravely embodied by Annette Bening, who appears majestic in the many luminous flashbacks and then visibly lined and ageing as the declining cancer patient, photographed with the uncompromising, unsympathetic detail and sharpness typical of today's digital cameras.
"We photographed Film Stars like an homage to Hollywood of the past, telling the story of a star from the black & white era using the old techniques. The imagery is more
like a nostalgic memory; it is not reality. We went for an enhanced realism that has feeling and is much more beautiful," explains DOP Urszula Pontikos.
"We used back projection plates for the beach scenes at Malibu at her caravan (trailer), for the moonlit scenes of the ocean, and the driving sequences both on the PCH and in Liverpool. We wanted to showcase the landscape and the ocean and the bright California light that's so magical, and so different to England. It was a bit challenging to light back projection plates that have been shot by someone else, and that becomes the template that you are locked into. I needed to see the projection screen lit up to watch how it played on the actor's faces,
and then to light them, and find the right emotion for the scene.
"We started with daylight scenes, then dusk, then gradually worked into night. It's important to have good plates to work with. We used CTOs to put some warmth into the images of magic hour after sunset. That projection has a colour temperature of around 6200K. You take your plate and then you start your lighting. You can tweak it a little, but basically you are locked into that plate.
Behind the scenes at The Rivoli Ballroom with director Paul McGuigan, producer Barbara Broccoli and hair and make-up designer Naomi Donne.
"Back projection can be a bit tricky to work with, but the results are amazing and the actors love it. You could see it in their eyes that they were moved. Both Jamie and Annette felt the emotion. For the driving scenes up the PCH in the VW Beetle, we found old footage from the 70s. The plates for the grunion and Malibu beach scenes were shot by Stefan Lange on an ARRI ALEXA 65 camera, on Broadstairs Beach in Kent, England, and it was graded 'day for night'. The Malibu beach scene and trailer park plates were shot by the team in LA on the location.
"Again, we were replicating a memory; it wasn't reality or real events, but we had to get the texture right. For the scenes on the balcony of the New York apartment, we used a Translight and I had a long conversation about colour with our wonderful production designer, Eve Stewart, who had definite ideas about how the backing should look.
"I've been lighting for a while, but never to this degree on large studio sets, and then in a real theatre in Liverpool, and I never worked with back projection before, but people helped me, they supported me. We worked as a team.
"We had two worlds to create: the dark gritty realism of Liverpool in 1981 and the glossy, colourful scenes of their time in LA, but we didn't want the looks between present and past to be too different or jarring.
"We photographed Film Stars on an ARRI ALEXA with uncoated master primes to have the sunny 'flarey' look. I rated the camera at 800 ASA, even for night sequences. I wanted as much latitude for both day and night, so I concentrated on trying to put the highlights in the right place. Obviously, I would have loved to shoot on film, because it would have given the film maybe a more organic look, but the budget and the schedule didn't allow it.
"With my DIT, Thomas Patrick, who I have already done quite a few projects with, we always talk about the look I'm going for. We use the live grade on set, and when I have a moment, I'll go over and check what he's done, and alter it slightly to make it darker or brighter. I use my eyes to light, I use the monitor, the waveform monitor, and my light meter. Paul has strong ideas about how things should look, and even though I didn't know Paul and never worked with him before, we could discuss everything easily and thoroughly.
"For the work flow, we used an ALEXA with a live grade and worked with Pinewood Post to grade the rushes. I shoot lots of stills on set, so we can readjust the look once it is edited, because the film often takes on another look at that stage of the process. Nothing is set in stone at that point, we were still finding out our strokes. We have a little back end work, but the grading in post can change everything. Paul and Nick worked on the edit up in Glasgow, then we graded at Molinare.
"Overall, it was an incredible opportunity for me to shoot such a personal, intimate, romantic story and I'm very proud of it. You don't see many movies like this anymore. Would I use back projection again? Yes, I would take the challenge again, any time. The results are fantastic, and it's for the art of making films."