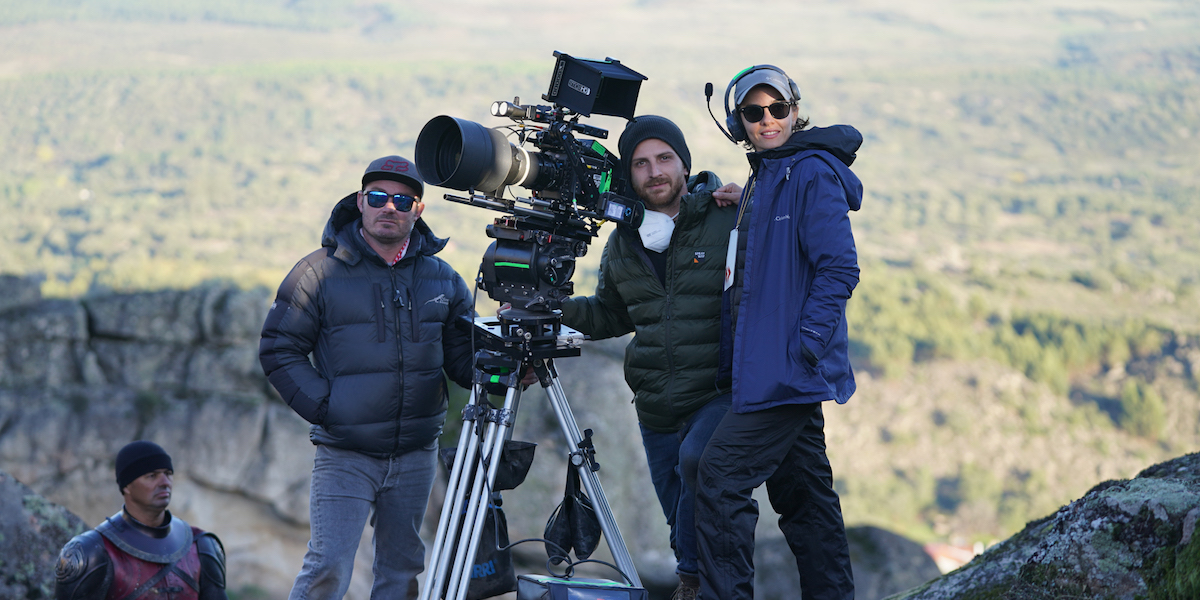 Tanya Marar: Wonder woman
Posted on Apr 12, 2023
Tanya Marar reveals how she smashed through the glass ceiling
Advertisement feature
TANYA MARAR HAS a rather different backstory to most film crew. As a female born and raised in Amman, the zeitgeist of the eighties and nineties meant that filmmaking couldn't have been a more unlikely career path for a young Jordanian.
"Sure, we got all the latest Home Alone and Indiana Jones films on VHS (The Last Crusade is set in Petra, Jordan), but we never thought about who was actually making them, or the number of different people, talents and departments it actually takes to produce something like that," she explains. "They just existed magically on a screen."
It wasn't until Marar reached her mid-twenties, after studying politics and economics and then working at an advertising agency for a few years, did she come across how things were actually made; on a commercial shoot in Malaysia.
"The Lebanese director of the shoot noticed me lurking around, probably not doing the job I was supposed to be doing, and turned to me to say: 'You seem interested in this process, why don't you get into filmmaking?' To which I thought: 'No way. How do I even start?'"
Marar turned down the opportunity, but a seed had been planted. A few years later, she decided the advertising world and an office job wasn't for her, so she set off to find work with a film crew.
"I was extremely nervous since I had no idea how to go about it, and telling my family that I was giving up a secure office job was like telling them I was running off to join the circus. In some ways, let's face it, I was."
SHE WHO DARES
Fortune favours the brave, and Marar was soon offered a gig in the camera department. She never looked back.
Marar instantly adored the buzz of a film set, being involved in the logistics of the department, all the technology around, navigating people and spaces, being part of a machine of creation. "I also loved knowing that I played a part in something people would watch and enjoy – or hate," she says. "It felt exhilarating, meaningful and challenging. Interestingly, 15 years later that same director called and asked if I would operate on his first feature – which I did. It goes to remind you how small this industry can be."
Fast-forward to 2023 and Marar has a CV that most in the industry would be envious of. However, such is the richness of her career to date, she finds it difficult to choose one project that stands out.
"Every project I have worked on is so important to me in different ways, even the bad ones," she muses. "I was proud to have been an assistant on a huge Hollywood production, Zero Dark Thirty, back in 2011, and worked with such an important DOP and director. I was proud to have loaded 35mm film on one of my hero's [Fatih Akin] productions and to have not messed it up." Marar has also worked on, or as she puts it 'survived', documentaries that took her to some of the most inhospitable places in the world. This includes trying not to get frostbite at -50°C in the Ural Mountains, Russia, in knee-deep snow. Or lugging cameras and trying to avoid getting bitten by bullet ants – 'look them up, they are no joke' – in the damp, unforgiving, yet ethereally beautiful Amazonian rainforest in Bolivia. Or fighting brutal sandstorms while connecting with the most soulful people in the deserts of Sudan.
"Strangely, the relationships and connections I made on these projects, mostly with people who – due to their remoteness – I will never see or speak to again, are things I will remember fondly for a very long time," Marar adds. "It shows you a common goal and that shared moments can transcend language and geography."
More recently, she was the cinematographer on a short film that was shot with an exceptional young lady in a refugee camp back home in her native country, Jordan.
"I love that I'm able to take all the things I've learnt over the years and apply them at home, where I can be part of the overlooked stories that remain real issues in the region I come from, even when they aren't covered in the mainstream media," she adds.
Marar was also a B camera operator on House of the Dragon in 2022. In fact, it was last year when she was 'desperately looking for resources' to help her navigate her career and the industry. However, all she could find at the time were podcasts and interviews with highly successful people, which at times felt unrelatable.
"It's nice to know that Roger Deakins has been fired from a job some time in the past, but it's harder to relate to the story now considering he's one of the most successful cinematographers in the world," she says. "I wondered why there aren't more resources focused on women and maybe on women who are in the process of stepping into new roles, or perhaps doing amazing work that isn't on the scale of Hollywood."
Instead of sniping from the sidelines, Marar took positive action. She decided she could be part of the solution even if it meant starting a podcast amid an already saturated medium. "I started Conversations with Camerawomen, where I would chat with women in all different stages of their careers in the camera department: trainees, ACs, operators and DOPs talk about their journeys and work. The focus is not on gender specifically, but on their work. If there were stories that happened to be related to gender, those are experiences a lot of other women (and men) can relate to or learn from."
Marar reserves special praise for CVP, which is helping her develop ideas on the tech side. "CVP is a group of wonderful, knowledgeable people who I know care about the industry in more ways than just business; their support of this endeavour means a lot to me," she asserts. "Together, we are thinking about how we can grow, so watch this space."
A ROLE MODEL
Despite Marar's remarkable achievements, she's still very much the minority in a male-dominated space. She says it's great to see how far the industry has come in terms of the number of women, especially in the camera department, but sometimes she's reminded there is still a way to go.
"On one project, I was taking apart a piece of very specialised camera equipment and diagnosing the problems with it, when a camera operator said to me: 'Oh you're a woman, but you still seem to know how to handle these technical things,'" she recalls. "As if being a woman negates your ability to be technical. But I get it, back then it might have been an unfamiliar sight. When I started out, and largely for the first few years in Jordan, there were no women role models to look up to and think – well that's possible for me one day."
Now, Marar is an inspiration to every woman from any walk of life who harbours ambitions of a career in filmmaking.
BUILD YOUR PERFECT KIT WITH CVP
CVP is home to a full spectrum of production equipment that's ready to see, combine and evaluate. Its creative and technical staff are committed to finding the right solution for every production need. To arrange an online demo, or book a one-to-one consultation, call 0208 380 7400 or visit cvp.com.
This article appears in the April issue of Definition. Read the full magazine here.