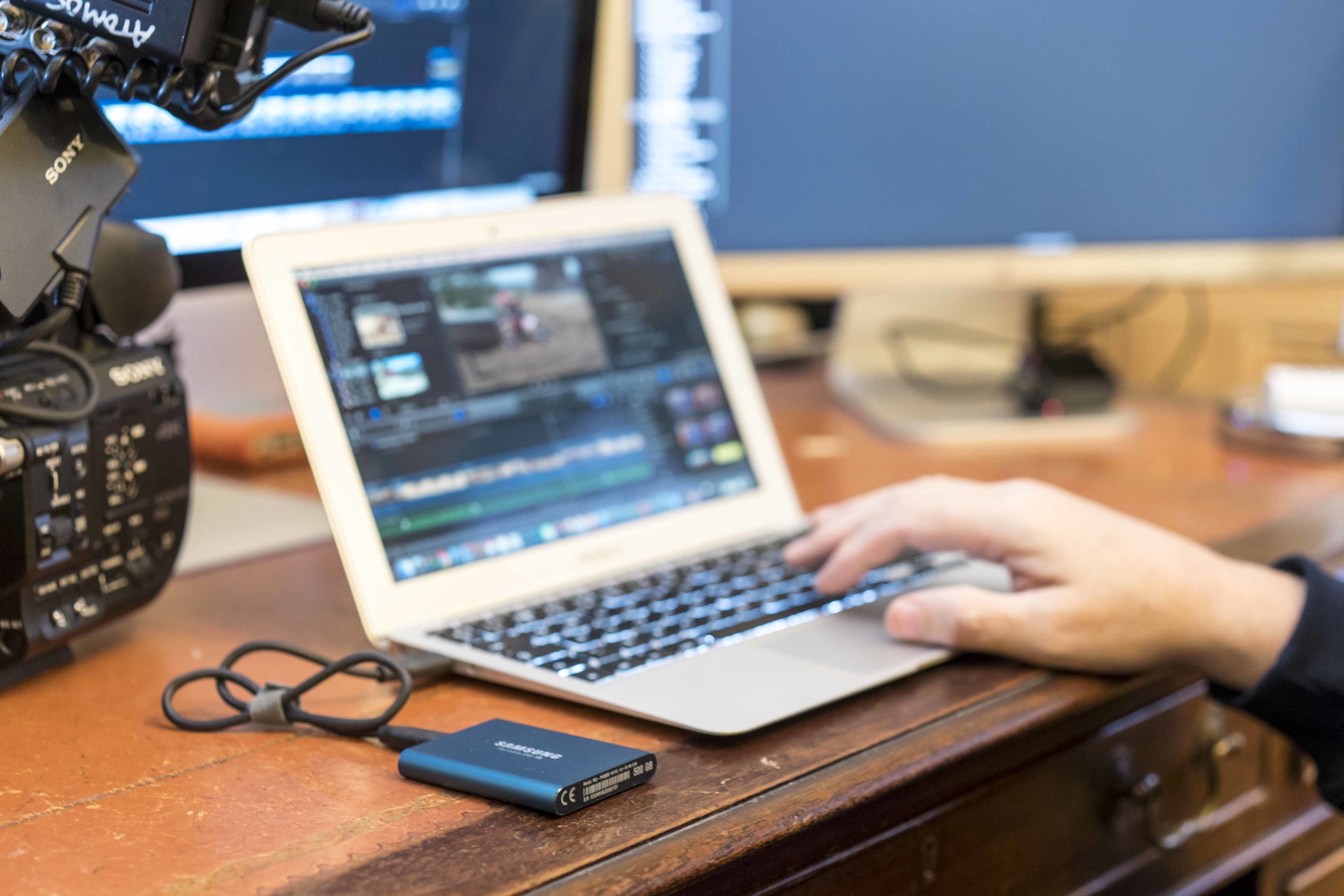 Storage workout
Posted on Jan 19, 2018 by Julian Mitchell
Thanks to the Samsung Portable SSD T5, John Owens is able to quickly and efficiently transfer his footage, saving time on-set.
John Owen shoots films for gym equipment manufacturers and was looking for a physical way to move his footage in to post
The more people we ask to look at these incredible new Samsung Portable SSD T5 drives the more we realise that this is enabling storage technology at the cutting edge. Throughout the series we have seen many and varied uses for them: we have been in the air with a major movie aerial cinematography company; we have been deep in the ocean with a highly talented and decorated wildlife cinematographer; and we have been on the streets with indie filmmakers who need small, fast, portable, reliable and secure storage.
With each case study, whether it be editing a movie on a packed commuter train or transferring files in a remote location, we have found creative people finding a solution that fundamentally changes their usual way of doing things – that's the best use of new technology and a true enabler.
Getting physical
Samsung's range of Portable SSD T5 drives at present tops out at an impressive 2TB but also on offer are 1TB, 500GB and 250GB versions. We shipped John Owen a 500GB SSD drive as most of his corporate films are aimed at an online audience and the files don't need to be as massive as say a movie file.
John shoots with a range of cameras including DSLRs and more bespoke models. Even if he does shoot with a smaller file size there is still a need to get the footage from camera to his post-production set-up as quickly as possible. "Shooting gym equipment sounds a simple project," he says, "but you have to bring in models and create a nicely lit set so at the end of the day you're dealing with similar problems to say a small television production."
The demands of corporate videos mirror most other productions and in some cases they ask more of the producer who can be a lone operator.
"When a new piece of equipment is launched," explains John, "we have to produce a series of different length films with male and female models and sometimes with older ages when the gear is less stressful to use. Our camera set-up isn't that portable when we are fully set up; we have tripods, lights and other accessories.
"The obvious use of the Samsung Portable SSD T5 was to use it as a transfer drive to my laptop. Usually I would have to break from filming to get my media to my laptop. This leaves my actors cooling down, which is never a good idea, until I have checked my takes and can come back to the shoot. In a gym scenario there is no network you can plug in to so it's always a physical transfer.
"Immediately the speed of the Samsung Portable SSD T5 became apparent. My assistant was able to download footage from the camera extremely quickly and then load it up to my editorial laptop. I was able to carry on shooting, keep the actors warm as they went through the exercises and save a lot of time. My assistant was then able to transfer the files to the editor and lay takes out in order ready for an initial edit to show the client who would oversee the session.
"But better than that was the fact that we quickly realised that if we wanted a quick edit to check that a shot sequence would work, we could edit directly from the drive as the transfer speed was so quick. Coming back to the client with a workable edit so quickly helped enormously when time constraints are an increasing problem."
Tight budgets
In a small film production company every purchase has to justify itself immediately. The price of some camera media can be high, but it is tempting to invest in it to allow for longer recording times. John now realises that leaping to a high cost investment might not be the best choice for him in the short term as something like the Samsung Portable SSD T5 range plugs a gap in his workflow. "To be honest before I used the Samsung Portable drive I hadn't considered this the answer to increased workflow. As our file sizes aren't huge, something like the 500GB drive is sufficient for our transfers, but I think the real plus is the ability to edit directly off the drive. That feels like something very new with such a small device.