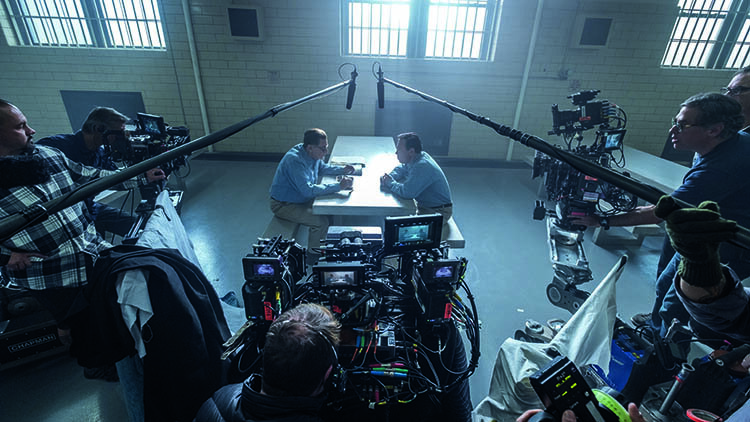 State of capture
Posted on Feb 19, 2020 by Julian Mitchell
As the virtual world gains prominence in our industry, pointing a camera has never been so complicated. We look at the latest ways to capture to help lighten the load
---
Words Julian Mitchell / Pictures Various
The traditional camera capture has moved on and evolved, mostly to encompass the virtual world. We now have smart lenses, witness cameras, infrared cameras, virtual cameras, scanning systems like LiDAR, aerial camera arrays, beautifully rendered camera tracking, cameras for real time VFX, cameras for small gimbals, photogrammetry and virtual production.
Building up a camera for a large production can now be a huge undertaking of rigging. The 'three-headed monster' rig from The Irishman was made up of a shooting Red Helium and two Arri Alexa Minis for infrared 'witness' capture, all with Cooke Panchro and Zeiss compact zoom lenses. There was an immense amount of experimentation to imagine and perfect a rig that could operate 'the monster' without compromise, even though that resulted in a rat's nest of cabling to accommodate the three cameras and the associated weight.
ILM then had to come up with new ways to match the actor's facial movement for de-ageing, as tracking markers or individual witness cameras weren't an option for the old stagers: De Niro, Pacino and Pesci.
The great thing about digital cinematography however is that there is always going to be a new camera, especially in the bourgeoning new large format world. Here's our update on the new models.
Arri Alexa Mini LF
Arri's original Alexa Mini was the big surprise when it was launched a few years ago, and the LF version was hugely anticipated. As it turns out, the famous DOP Roger Deakins managed to get hold of some early prototypes for 1917 and delighted in its ergonomics and image quality.
The Alexa Mini LF was announced in March last year at a weight of 2.6kg and a size roughly equal to an Alexa Mini. Power consumption is a relatively restrained 65W and the camera records 4.5K up to 60fps, and HD up to 90fps. Both the Mini and conventional Alexa LF sacrifice the 6K resolution of the Alexa 65, compromising with a still-admirable 4.5K. The benefit is compatibility with lenses designed for a sensor roughly the size of a stills negative – Alexa 65 and 65mm film both demand lenses with medium format coverage.
Sony FX9
Anyone with a less understanding bank manager might think about Sony's FX9, which appeared at IBC2019 and seems cast as a full-frame version of the FS7. As such, it's lighter than even the Alexa LF. At 2kg body only, it consumes a positively miserly 35.2W while offering 60fps in 4K and 180fps in HD; the full sensor is 6008×3168. On-board recording is in Sony's H.264 variant, XAVC, in a variety of intraframe or long GOP bit rates up to a healthy 600Mbps. There is no on-board Raw recording, but Atomos has announced capability in conjunction with Sony's XDCA-FX9 extension unit.
The XDCA-FX9 also provides V-Lock battery compatibility (no bad thing, even at 35W) and a DWX-compatible audio slot. There is no mention of ProRes recording, which the equivalent XDCA-FS7 extension unit offered for the FS7. Sony showed the FX9 at IBC with the upcoming 15-35mm lens, a semi-manual design similar in concept to the existing 18-135mm options that have been widely deployed on the FS7. Covering the FX9's full-frame sensor, these lenses suit the camera's E-mount and might help blunt the sticker shock that goes with fast, high-ratio, full-frame zooms. One significant advantage of the E-mount is that it is probably the shallowest in the industry and is therefore adaptable, at least mechanically, to suit more or less any piece of glass. The camera lists for £10,000 plus tax.
Canon EOS C500 Mark II
Not to be outdone in the world of lightweight, full-frame cameras, Canon announced the EOS C500 Mark II days before IBC last year. The C500 Mark II is to the C700 FF much as the Alexa Mini LF is to the full-sized Alexa LF. Canon enjoys massive experience making full-frame cameras, having launched the first full-frame motion camera in the world, albeit perhaps by mistake,