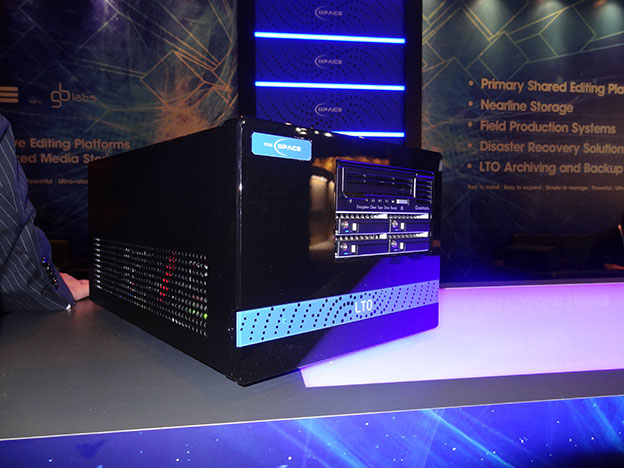 SSDs Looking To Displace Spinning Discs
Posted on Sep 13, 2012 by Alex Fice
The Mini Space SSD from GB Labs (LTO version pictured) has been designed for 2K and 4K editing and DITsGB Labs new SSD packages offer 4K record/playback of DPX faster than hard drives.
We all know that SSDs are faster than hard drives, last longer and are much more expensive. But GB Labs at IBC2012 have proved that although costlier their Space SSD packages deal with 4K DPX files in a more efficient way than hard drives. Ben Spence from, GB Labs explains, "The nature of DPX files with their still image formatting is perfect for SSD with their 30 times faster performance than spinning discs. 4K movie files also work very well with SSDs but the spinning disc products are also fast enough. "
GB Labs write their own operating system developed over the last six years which is implemented in all their products based on Linux, that's their IP.
SSD products include the Mini for location work with an up to 48TB capacity, a Space SSD which is capable of delivering mind boggling 3,000Mb/s which is translated in to nine stream of 2K DPX or 146 streams of Pro Res. MIDI Space has been designed for smaller studios which has 16 2.5inch SSD bays, again good for 2K and 4K shared use.
"The Mini SSD starts at $15,000, the 4.8TB version is $24,000. The MIDI SSD can have a 7.6TB unit for $33,000 and the full blown unit can have 11.5TB for $40,000 with 24 bays of SSD. You can also use the very largest SSD at 600GB, this is the Intel SSD, we've tried everything else and they don't work anything like as well and are certainly not as reliable.
"We rate that unit at 3,000Mb/s which is pretty conservative because internally it does over 6,000 but that allows for any natural slow down of the product. We can deal with five 4K DPX streams simultaneously. As a shared 4K solution this is incredible and spinning discs can't compete with that it all.
"The MIDI unit can still do three 4K DPX streams and loads more 4K movie files probably 15 and maybe up to 18. At the moment SSDs are too small and too expensive to really challenge hard drives so what we have done is establish a comparatively low price point for the SSD range. We also have the ability to push and pull data between Space boxes so you can intelligently use an SSD box even if it is a smaller capacity in conjunction with other Space spinning disc products."