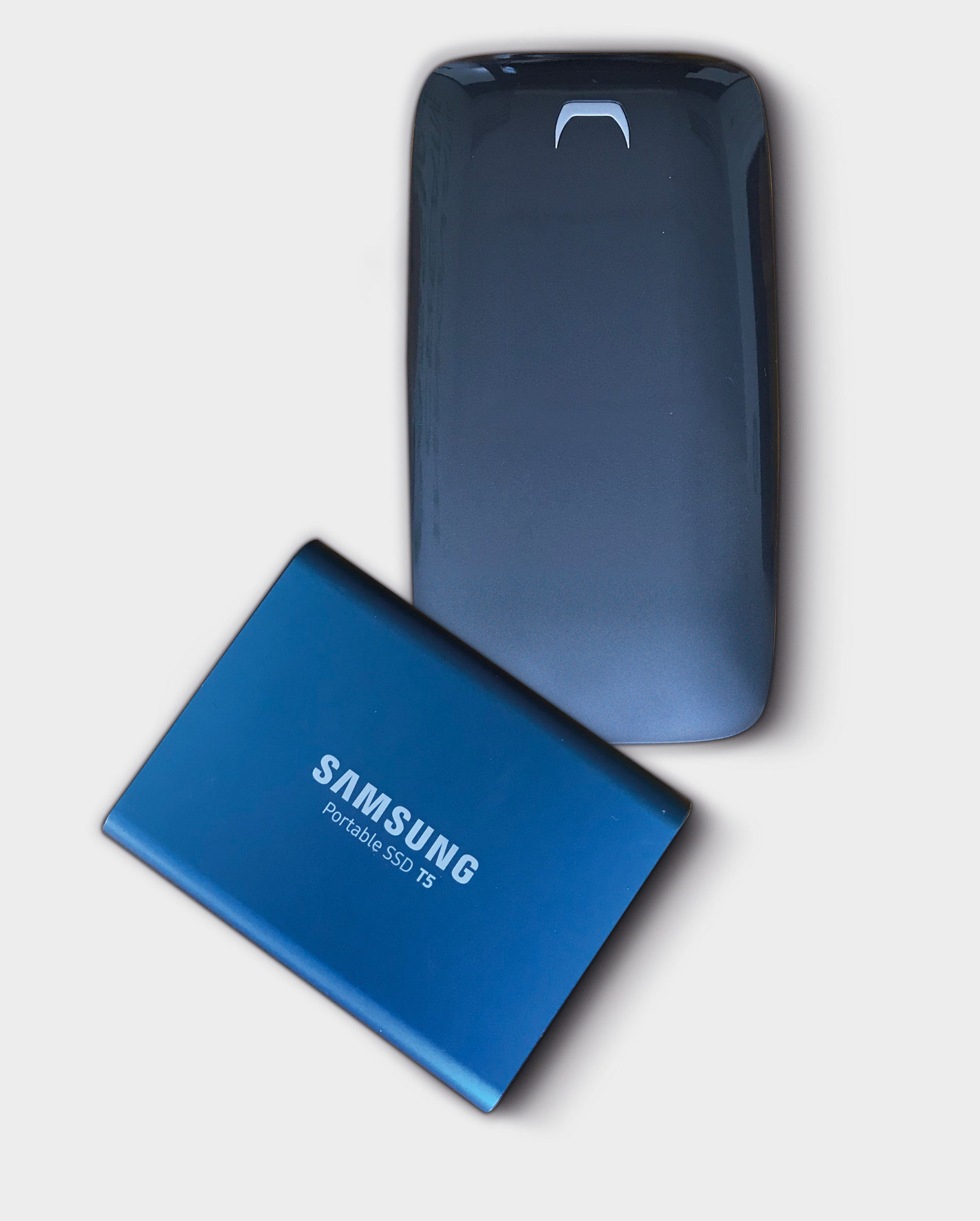 Speed Freak!
Posted on Sep 7, 2018 by Julian Mitchell
Above The new X5 might be a similar size to the T5, but it's light years ahead in terms of speed.
Just as we were settling down to SSD transfer speeds a new drive hits the market
Words Julian Mitchell
We have been hearing over many months now how Samsung's Portable SSD technology is enabling video professionals in their everyday working life. The speeds of the T5 models were maxing out at around 600MB/s and basically revolutionising the camera card transfer paradigm. This impacts on the actual mechanics of filmmaking too as it saves valuable time at the beginning and end of the day – for documentary shooters to be able to get camera cards back in their slot after only a few minutes of transfer is huge. (You can read about a recent example of this speedy transfer on page 68; cinematographer Zach Levi-Rodgers put a smile on the crew's face when he transferred 35GB in a minute onto an Apple iMac Pro.)
So the status quo of card transfers was set. That was until a package turned up from Samsung. I opened the box and found something shaped and designed like a prop from a sci-fi movie. This was a new SSD design from Samsung, shiny grey light magnesium on the top and bright orange tough plastic on the bottom presented in a slim wedge shape. A single connection on the side had a lightning bolt next to it.
Thunderbolt 3 only
The X5 is a beautiful thing (inspired by the design of a supercar) but that's not the best thing about it. The best thing about the X5 is its transfer speed. Unapologetically Thunderbolt 3, it's mind-numbingly fast, reading at 2800MB/s and writing at 2300MB/s. If your system doesn't support Thunderbolt 3 it won't work with the X5.
These speeds are five times faster than current USB 3.1 and more than 25x faster than an external HDD. Over 2GB/s writing speeds would make Zach very happy and translate his single-minute transfer of 35GB in to around 17 seconds – blimey!
As you can imagine Samsung has introduced some cutting-edge technology with the X5. The SSD integrates the latest thermal management, which Samsung calls Dynamic Thermal Guard. This promises to safeguard against overheating by automatically maintaining optimal operating temperatures, while a mechanical heat sink minimises overall heat inside the drive.
Apart from the transfer speeds the X5 inherits some hugely important features from the current T5 drives. These include the shock test results – drop it from up to 2m worry free. It also inherits the data protection through Samsung's Portable SSD software managing access to password protection based on AES 256-bit hardware encryption.
This amazing product only goes to underline the fact that SSD drives are set to revolutionise the industry and their impact is only just being felt. The X5 comes with a three-year limited warranty and is available now, with suggested retail prices of £359.99 for the 500GB model, £629.99 for the 1TB model and £1,249.99 for the 2TB model.
The game has just changed.