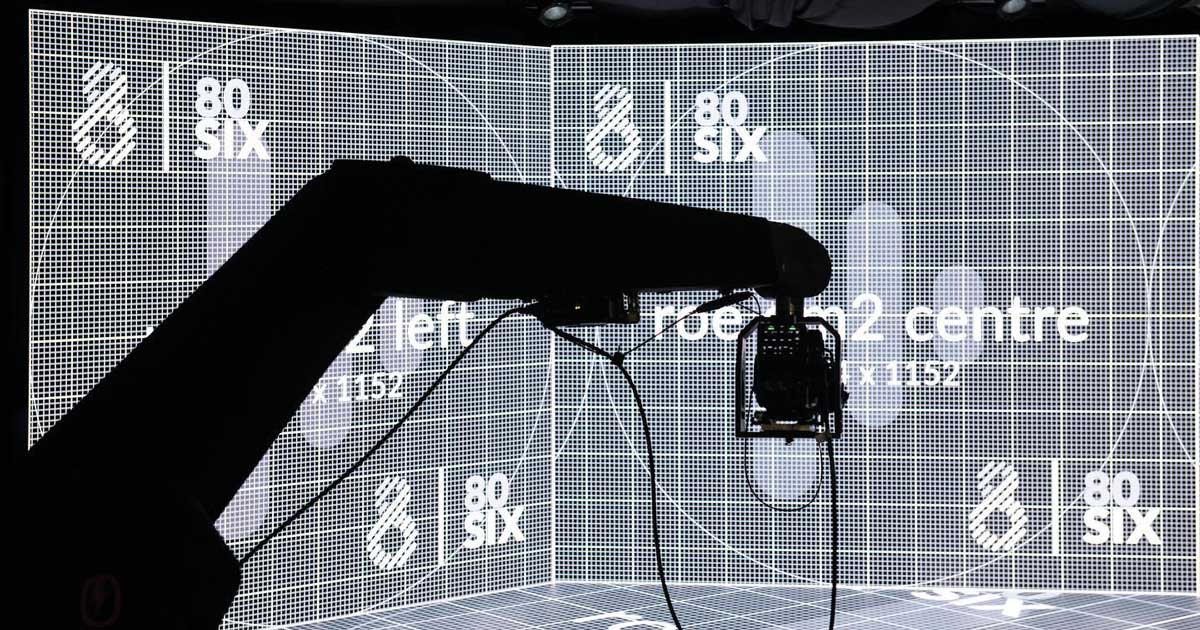 Space Race: Virtual Production Studios
Posted on Jan 21, 2022 by Alex Fice
© 80six
Companies around the world are charging ahead to set up virtual production stages, but it is the UK that has seen the strongest growth. We highlight just a few of the studios at the forefront of a sector with infinite possibilities 
Words Chelsea Fearnley / Images Various
In 2020, as numerous lockdowns and travel restrictions impacted on-location shoots, the ability to film in a contained, controlled space that could stand in for multiple environments grew in appeal – and continues to do so. It's the versatility of virtual production that makes it so attractive. But not only does it allow production teams and filmmakers to dream big in terms of setting and context, it also enables technical and creative departments to come together and breathe new life into the way that stories are visually told. 
Since the start of last year, the UK film industry has witnessed a kind of doubling effect, as more and more virtual production stages are being built to meet increasing demand. Going into 2022, the global virtual production market was already worth $1607.09 million, and is projected to reach $2941.27 million by the year 2028; a CAGR of 15.9% during that forecast period. We can't wait to see what will become of this technology (see our round table on page 31 for predictions), but for now, let's shine the spotlight on some of the British facilities housing impressive LED volumes.
Garden Studios: Soho, UK
In March 2021, Garden Studios increased its size, expanding by 65,000 sq ft, providing 127,000 sq ft of studio space in total. The new site, known as the Orchid Campus, comprises 11 serviced offices, two shooting spaces (around 40,000 sq ft) and a 16,000 sq ft workshop. This is in addition to its existing three sound stages, three shooting spaces, and four fully equipped production offices and workshop units. The crowning jewel, however, is its state-of-the-art virtual production stage. Powered by Unreal Engine, it is a 4800 sq ft space, offering a flexible, safe and socially distanced working environment, that is sustainable and cost-effective. 
Garden Studios has partnered with several industry experts to build its volume, which is a 12-metre-wide, four-metre-high curved LED wall, and a 7.6-metre-wide, height-adjustable LED ceiling. Roe Visual supplied its award-winning LED display technology; Mo-Sys its StarTracker camera tracking system; Arri its Alexa Mini LF with head, legs, preview monitor and a set of prime lenses; and Brompton Technology its Tessera LED processor. The stage also uses an iPad Pro and DMX lighting controller for real-time adjustments. 
Virtual production is the natural successor of green screen, and a sure-fire staple of the film industry for years to come
Mark Pilborough-Skinner, virtual production supervisor, says: "Virtual production is the natural successor of green screen, and a sure-fire staple of the film industry for years to come. We have worked incredibly hard – with some of the best industry minds – to develop a studio with impeccable workflow and infinite possibilities."
Pinewood: London, UK
ILM StageCraft, the production-hardened technology that gave the world the seminal virtual production series The Mandalorian, has opened up a new stage at Pinewood Studios. The company currently occupies two lots in Manhattan Beach Studios, and is looking to expand in a number of key creative production centres, including Atlanta and Vancouver. The new stage improves on the volume used in the Disney+ series. It is larger, utilises more LED panels, offers higher resolution and smooth wall-to-ceiling transitions – resulting in better lighting and more in-camera finals. 
"With StageCraft, we have built an end-to-end virtual production service for key creatives. Directors, production designers, cinematographers, producers and visual effects supervisors can creatively collaborate – each bringing their expertise to the virtual aspects of production," explains Janet Lewin, SVP ad general manager at ILM. Rob Bredow, ILM CCO, adds: "Over the past five years, we have made substantial investments in both our rendering technology and virtual production toolset. When combined with Industrial Light & Magic's expert visual effects talent, motion capture experience, facial capture via Medusa, Anyma and Flux – and the innovative production technology developed by ILM's newly integrated Technoprops team – we believe we have a unique offering for the industry."
At present, the Stagecraft team are working in Sydney for Thor: Love and Thunder. Coming soon, Ant-Man And The Wasp: Quantumania, which director Peyton Reed revealed will be filmed using the Pinewood volume.
80six: Slough, UK
80six invests much into the R&D of emerging technologies, to deliver complex, stunning imagery. Its virtual production stage, set in a 35,000 sq ft space, is one of the largest semi-permanent LED stages in the UK, and is available for use in film, TV drama and commercials. 
At its heart is an 18-metre-wide, 4.5-metre-high curved LED wall, built from Roe Visual's renowned Diamond panels. These have been calibrated for 10-bit HDR, to ensure optimum image quality, with greater brightness and colour range. A height-adjustable 12-metre-wide, 5.4-metre-deep Roe Visual Carbon 5.7mm LED ceiling illuminates the stage from above, and CB5 movable LED dollies can be used for additional lighting purposes. The panels run on Brompton's SX40 LED processors, enabling high brightness to simulate real-world lighting environments, while providing an even coverage that can be controlled from the studio's gallery. And a Disguise and Unreal Engine virtual production pipeline powers the stage, allowing both real-time content playback, as well as pre-recorded plates. 
Dimension Studio and DNEG – the Oscar, Bafta and Emmy award-winning VFX company – used the volume recently for Fireworks, a high-profile short directed by Paul Franklin and produced by Annalise Davis. 
Arri mixed reality stage: Uxbridge, UK
Equipped with a volume comprising a 343 sq m LED wall, Arri's mixed reality studio is one of the biggest virtual production spaces in Europe. It consists of a main 'in vision' curve, that's 30 metres wide and five metres high; two movable and tiltable side screens, each three metres by 4.2 metres; and a height-adjustable ceiling of 9.6 metres by 9.6 metres. A back curve measuring 18 metres by 4.2 metres completes the fully encapsulated, yet flexible space. It can be programmed to display 360° imagery that, even when not in frame, casts dynamic, entirely integrated lighting effects onto the actors and the scene being shot. The 'in vision' curve is fashioned from Roe Visual Ruby 2.3 panels, while the side screens, ceiling and back curve use Roe Visual CB5 panels. 
The studio design and systems integration came from Arri. Creative Technology designed and installed the video walls, playback systems and a number of powerful control systems; and Mo-Sys supplied its StarTracker camera tracking system and VP Pro XR. Epic Games provided its flagship real-time 3D creation tool – Unreal Engine; and Megapixel VR installed its Helios platform for image processing. Like other integrated facilities, technical support is tailored to the requirements of each production, and is offered with the full weight of expertise from Arri and its respective partners. For productions new to mixed reality, technical support can extend to a full script-to-screen service. 
Designed by one of the most trusted brands, the facility offers its own products, available from Arri Rental. 
Jannie van Wyk, managing director of Arri Rental, says: "Collaborating with best-for-purpose suppliers of all the varied technologies has enabled Arri to deliver a full solution for mixed reality. These industry-leading hardware and software tools could not be better complemented than with Arri cameras, lenses, stabilisers, lights and workflow support – which can be provided to productions as a package deal on site. Unsurpassed in image quality and all-round technical solutions, Arri products are ideally suited to mixed reality shooting. Arri's engineers will continue to learn and innovate to improve their integration into virtual environments."
Read our round table interview on virtual production with industry specialists here.