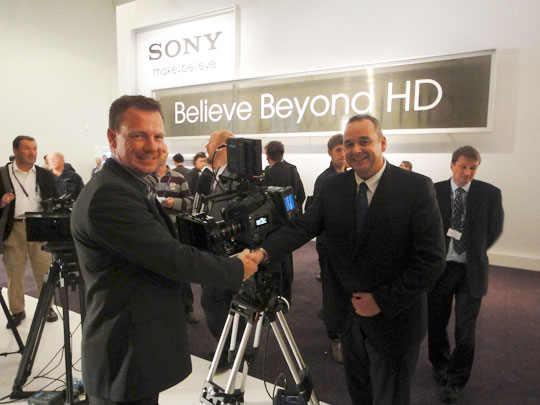 Sony Sell More F65 Cameras At IBC 2011
Posted on Sep 14, 2011 by Alex Fice
Left Mike Thomas, MD, Top Teks and Adam Fry from Sony AV MediaUK Sales and Rental operations Top Teks has ordered 10 x F65 packages on the Sony stand at IBC…just three days after Sony announced the pricing and availability.
Mike Thomas, Top Teks Managing Director, said " the F65 opens up new digital cinematography opportunities for creative directors. This deal is important for us because not only does it strengthen our relationship with Sony, it allows us to expand our high end offering. We're already have customers interested in the F65 because, like us, they see it as the next step up to create truly stunning images"This is the same package as bought by CVP earlier at the show.  This includes the following and the list price for the package in 75,000€:

– Sony F65 camera with rotary shutter
– SR-R4 SRMASTER dockable recorder (which docks directly with the F65)
– 256Gb SR memory card
– Viewfinder
– SR-PC4 SRMASTER data transfer unit
This deal is available until the beginning of January 2012.