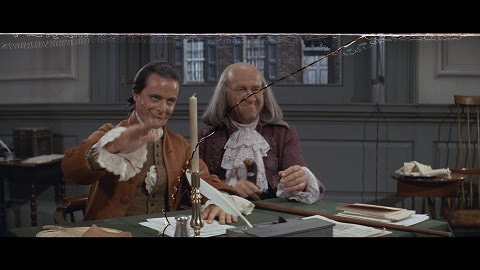 Sony Pictures Entertainment Completes 4K Restoration of '1776'
Posted on Jun 3, 2015 by Alex Fice
1776, Columbia Pictures' 1972 film adaptation of the Tony Award-winning Broadway musical is now available on Blu-ray, from Sony Pictures Home Entertainment, in the form of a 4K digital restoration. Prepared under the guidance of Director Peter H. Hunt and Sony Pictures Entertainment Executive Vice President of Asset Management, Film Restoration & Digital Mastering Grover Crisp, the new Director's Cut restores the film to its near original state and includes newly-discovered material, never before seen by the public. It also features a newly-restored and remixed 5.1 soundtrack.
The newly restored 1776 made its world premiere screening March 28 at the TCM Classic Film Festival and is being released theatrically through Sony Pictures Repertory.
An imaginative look at the behind-the-scenes drama that led to the signing of the Declaration of Independence, the stage version of 1776 won Tony and New York Drama Critics Circle awards for Best Musical. Brought to the screen by producer Jack L. Warner, the movie version featured most of the original Broadway cast, including stars William Daniels and Ken Howard, and much of its theatrical flair. "The movie is not a 'whodunit'—we all know who signed the Declaration of Independence—it's a 'howdunit,'" observes Hunt.  "It creates dramatic tension from a story where everyone knows the ending."
The restored Director's Cut is based, in part, on an earlier restoration carried out in 2002 for a DVD release. That version, also prepared with Hunt's oversight, added a number of scenes and lost elements that weren't in the original theatrical release. Among them was a musical number that had been dropped from the film by Warner at the request of President Richard Nixon (who felt the scene cast conservatives in an unfavourable light).
Further detective work for the new version uncovered additional "lost" material, including dialogue that had been changed over ratings concerns. "There were a few lines that Jack Warner wanted changed…but the changes weren't funny," says Hunt. "The original lines from Broadway were funny and now, for the first time, they are in the movie."
The original camera negative was scanned at 4K at the Prasad Group's facility.
For the new restoration, the original camera negative was scanned at 4K. That was followed by digital image restoration at Prasad Group and complete re-mastering and colour grading at Colorworks, all of it completed at 4K resolution. Sound restoration and remixing was completed at Chace Audio.
Variations in colour, due to different levels of degradation in negative elements, have been eliminated as much as possible, resulting in a seamless look. "When a scene comes up that had been cut out or compromised in some way, it looks like it is supposed to be there because we could maintain consistency with the image and keep it's natural filmic quality," explains Crisp.
Colorworks Colourist Sheri Eisenberg says that much time was spent studying existing film prints and other reference material in order to ensure the restoration accurately represented the movie in its original form. "We did a lot of eyeballing," Eisenberg says. "We kept asking ourselves, 'Does it feel right?' 'What can we do to make it better?' We wanted to keep the theatrical feeling of the original."
Hunt says that, in some ways, the results go beyond the original. "I'm ecstatic," he says. "1776 is back to where it should be. The work done by Grover and his team is miraculous. It looks better than when it premiered. It's gorgeous!"