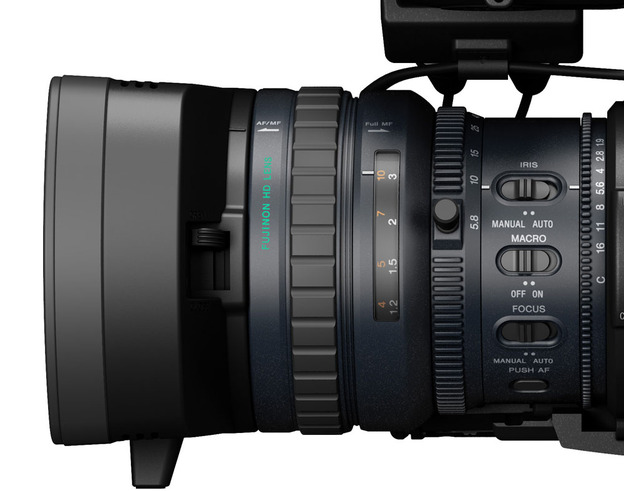 Sony Aim At Broadcast Favourites With Bigger Sensors
Posted on Jul 26, 2012 by Alex Fice
The new Sony PMW200 camcorder beats the opposition on sensor size but on the rest of the feature set it's a close call.
With their new PMW-200 camcorder and it's new half inch Exmor CMOS sensors Sony are butting right up against Panasonic's HPX250 and Canon's XF-305 third inch camcorder offerings. Both have been certified for use by the BBC even with their smaller sensors as both push out a 4:2:2 50Mbps signal. Canon put an L Series 18x lens on their 305 while Panasonic a 21x lens with optical image stabilisation. The Canon is more expensive than the Panasonic but the Panasonic uses expensive P2 storage – swings and roundabouts.
Sony are none too subtle about who they are chasing with their new PMW-200 and have put their emphasis on the experience they have with sensor technology. The experience is well earned as is their reputation for their XDCAM line up. In fact they are positioning the 200 as the replacement for the EX1R.
In addition, a variety of recording formats such as 50Mbps/35Mbps MXF, 35Mbps/25Mbps MP4 and DVCAM are available for the new camera.
"With the new PMW-200, we are putting one of the most versatile handheld camcorders we've ever developed onto the market," said Bill Drummond, Strategic Marketing Manager, Professional Solutions, Sony Europe. "The PMW-200 combines exceptional picture quality, seamless HD422 50Mbps workflow and a whole host of other useful features, with an ergonomic form factor. The result for users is an agile, lightweight solution that meets their varied needs and is the perfect partner for shoulder camcorders such as the popular PMW-500. It is also the ideal A-camera in its own right for HD broadcast production."
All these cameras are so well matched, they all reach the required image quality, all offer 50p frames rates (The PMW-200 offers their Slow & Quick – S&Q – motion function which allows capture at 1 fps to 60 fps in 720p mode, and from 1 fps to 30 fps in 1080p mode).
The Fujinon lens offers rings for zoom, iris and focus.
The PMW-200 also has a Fujinon14x zoom lens with three independent rings for zoom, focus and iris adjustment.
One thing the others don't have is a 15 second cache recording feature, a function unique among handheld camcorders. It can use its internal memory to capture images, even before the recording button is pressed (maximum of 15 seconds).
The camcorder records to Sony's professional SxS technology as well as other media such as SD, Memory Stick and XQD cards (adaptor required). A Wi-Fi remote control function (adaptor required) is due in December with a free firmware upgrade.
We haven't reviewed the PMW-200 yet but have reviewed the other two. It would be good to see what the bigger sensors bring to the party because because other that that you are in a price-led choice or have to start playing a game of  'Features Top Trumps'.
See our review of the Panasonic HPX250 here.
See our review of the Canon XF-305 here.