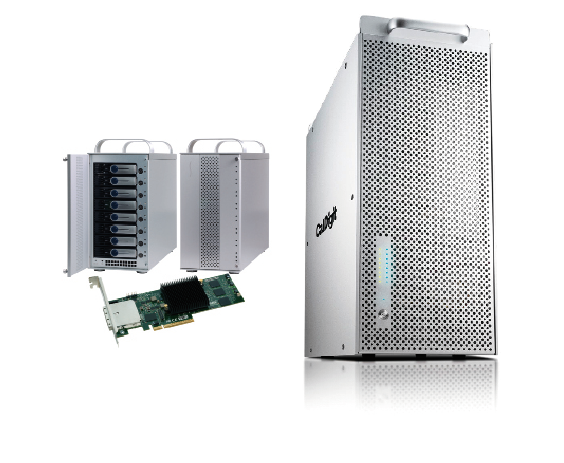 Sonnet Fusion D800 RAID v CalDigit HDPro
Posted on May 11, 2010 by Alex Fice
ADAM GARSTONE looks at two of the fastest hard drive systems available designed specifically for video transferYou can never have too much kitchen cupboard space. I have never known a kitchen with an empty cupboard. "Oh, you know, we just don't have anything to put in there" – never happens. My own cupboards are crammed with clanging, crashing, breaking things that fall out every time I open the doors.
In general, hard disc space is exactly the same – especially the hard discs you dedicate to media storage. Each new project starts with the decision: 'Delete old, but potentially important footage, or buy a bigger disc'.
If you tend towards the latter, there is a new generation of giant, fast RAIDs available that are surprisingly affordable (sort of). We'll look at a couple of the best value models, the Sonnet Fusion D800RAID and the CalDigit HDPro.
Both units are nicely engineered from heavy gauge aluminium to match the Mac Pro (more-or-less) and contain eight removable hard discs. The Sonnet is available in Europe as a bare shell, so you can supply your own discs, but both the units we tested were supplied with disc sets – Hitachi Deskstars in both cases – that gave just under 3.2 TBytes in RAID 5. Handily, the CalDigit was pre-configured as a RAID 5 disc set, formatted for the Mac. Less handily, you have to plug the discs into the unit in the correct order and the discs are labelled 0 to 7 whilst the slots are labelled 1 to 8. So, the first disc out of the packaging is disc 3 – so you plug it in slot 3, the next is disc 6 into slot 6 and so on until you hit disc 0 – d'oh! It's not a problem, but it could easily be avoided if it was mentioned on the single sheet of installation instructions.
The CalDigit uses a PCI Express card that, effectively, just extends your PCI Express bus out of the Mac and into the back of the disc unit. This is a cost effective, very high-speed connection – the card uses four or eight lanes giving you up to 2GByte/s data transfer across the interface. If you have an older Mac that has a PCI-X bus, then CalDigit can supply a suitable card. The PCI Express cable is heavy duty with locking connectors, though it's really only long enough for you to have the unit in the same room with you – a problem is noise sensitive situations. If you want to grow a really big system, you can buy a PCI Express switch that will allow you to connect up to seven HDPros to one Mac – it's worth noting, however, that this isn't a SAN – one Mac can access several discs, but several Macs can't accessing the discs.
CalDigit provide really nice RAID administration software that allows you to configure and monitor your RAID from anywhere on your network. The HDPro offers RAID 0 (striped for speed but no error checking/correcting parity), 1 (mirrored for fault tolerance), 0+1 (two striped sets mirroring each other), 5 (striped for speed with parity allowing a single drive to fail), 6 (striped for speed allowing two drives to fail) or JBOD (Just a Bunch Of Discs). We tested both systems using RAID 5 as a good balance between speed and safety. The software is very intuitive, allowing you to configure your RAID set, monitor the drives (the software will Email you if there's a problem with the discs) check the status of the power supplies and fans and so on. Just what you need for a hard working RAID set up. It's worth mentioning, at this point, that the HDPro is available with redundant power supplies as an option, as well as a battery to back up the RAID cache in case of power failure. The power supplies, fans, back up battery and even the main circuit board are all plug-in modules, so if one should fail they can be replaced very easily. If you really don't need all that stuff, there's an even cheaper version of the box – the HDOne – that is basically identical to the HDPro but without the redundancy and modularity.
The measure of a company is not how well they perform when everything is going well – rather their reaction when things go wrong, and the review unit suffered a software glitch during my time with it. A new software release was available on their website before I'd had a chance to blink – phone calls are answered quickly and they genuinely address issues in a timely manner.
The unit was pretty fast too, reading data at over 400MBytes/s and writing at over 320MB/s. CalDigit have developed what they call Active Sustained Transfer Technology which is supposed to equalise the transfer rates over time and over the capacity of the disc, good for media server use. I loaded up two 10 bit uncompressed 1080p clips and two uncompressed 720p clips and they played fine – adding another 720p clip started some stuttering on a new, 8 core Mac Pro.
The Sonnet Fusion D800RAID takes a different approach to its interface to the Mac, but is otherwise pretty similar to the CalDigit. Instead of a direct PCI Express connection, the Sonnet comes with an ATTO PCI Express to SAS (Serial Attached SCSI) RAID controller card. This has two cables to the rack of discs – again with very sturdy, locking connectors. The cable length is a little shorter than that of the CalDigit, though, on the plus side, its fan is a lot quieter – I'd be looking for places to muffle the CalDigit but I'd be happy to have the Sonnet next to the desk. The Sonnet unit doesn't have the power supply redundancy options or the modularity of the CalDigit, but it's cheaper as a result.
The ATTO Configuration software that comes with the RAID controller may not be as pretty as the CalDigit software, but it offers almost exactly the same functionality – configuration and monitoring of the RAID and email notifications of problems etc. The Sonnet can do RAID 0, 1, 4 (striped for speed with a dedicated parity drive), 5, 10 (1+0, a bit like 0+1 but better performance if a drive fails), 50 (5+0, striping across distributed parity systems) and JBOD. I'm sure someone loves all these different RAID configurations but, once again, I stuck with RAID 5 as a balance between speed and reliability.
And the speed didn't disappoint. Sonnet don't advertise a video specific sustained transfer mode, like CalDigit's ASTT, and its tested transfer rate was marginally lower than the CalDigit at 324MB/s, but in real world video playback it performed pretty much identically.
The 4TB Sonnet is available for £2425 plus VAT which includes the PCIe controller card, or you can get one without any drives for £1140 which means you could put a 4TB system together for around £1700 plus VAT (at High Street prices for a 500GB enterprise quality disc drive).
The basic 4TB CalDigit HDPro costs £3289 plus VAT, again including the card. Remember that the CalDigit is probably more scalable – you can add a redundant power supply and that multi-unit switch – and that there will be a lower cost option available (the HDOne at about $4000 plus tax in the US – 10pc cheaper than the similar Sonnet).
And the best one is, well, both of them. The Sonnet is definitely cheaper, if you're prepared to buy just the rack and build the drives yourself. The CalDigit's redundancy options lend itself to a micro-enterprise environment better. Either way, they are remarkable value.
ALTERNATIVES
If you want some smaller, cheaper alternatives to fast disc storage, Sonnet, Western Digital and LaCie have some interesting alternatives.
The Western Digital My Book Studio Edition II offers two hard discs in a rather 'plasticky' case. You get eSATA, USB 2.0 and Firewire 800 interfaces, 1TB or 2TB versions and application software that lets you set up RAID 0 or 1 for Mac or Windows. Set on RAID 0 (for speed) the Firewire 800 maxes out at reads of just under 80MB/s and writes at just under 60MB/s. Hook it up to eSATA, however, and things are much more interesting – reads top 115MB/s and writes 85MB/s. Sadly the configuration software, which also monitors the health of the unit and can make the LEDs on the front of the unit into a capacity gauge, doesn't work if you're using the eSATA interface.
The 1TB version is available for around £165, which is a bargain, so we'll forgive the horrible styling and paper-thin plastic case.
Sonnet's Fusion F2 – basically two laptop hard discs in a very neat aluminimum case – gives you up to 640GB in a box 14.9cm x 15.7cm x 1.8cm. They are targeting the laptop market – the unit even comes with a carry case, and like all Sonnet products the F2 is beautifully made. Each drive has its own eSATA interface, so you need two cables to your adapter card (Sonnet sell a suitable ExpressCard/34 for laptops) and power is supplied by connecting to a Firewire port. This is power only, there's no data connection, and it's a bit of a shame that it robs you of a Firewire port, but it's better than lugging around another power supply. There isn't any hardware RAID built in to the F2, so you need to use software RAID (easy to set up in Disk Utility if you have a Mac – full instructions are in the box). Once you're up and running, the F2 screams along in RAID 0 with reads running at over 130MB/s and writes at 125MB/s – ouch! that's fast for something so small and perfectly formed. Expect to pay about £400 or about £450 including the ExpressCard/34 interface.
Finally, and definitely not portable, the LaCie 2big Dual has a couple of user removable hard discs in a big aluminium box and gives you up to 1TB, 1,5TB or 2TB – you pays your money and takes your choice. eSATA and USB interfaces are provided, though the USB is embarrassingly slow so stick to the eSATA. RAID type is selected with a switch on the back – RAID 0, 1, BIG (the two discs are concatenated), JBOD and a mixed version where either 33% or 50% of the total capacity is used for RAID 1 (mirrored, safe) and the rest is used for RAID 0 (fast). It's a smidge slower than the Sonnet F2 and has a really annoying giant blue light on the front (which is also a button – either way, I put gaffer tape over it). It's sturdy, flexible and good value at £229 for 1TB.