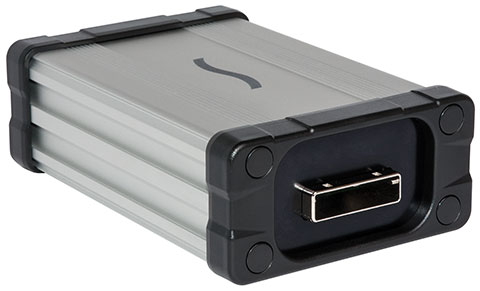 Sonnet Announces Avid-Qualified DX Thunderbolt Adapter
Posted on Apr 23, 2015 by Alex Fice
Product Enables Media Pros to Use Avid Mojo DX and Avid Nitris DX on Any Avid-Qualified, Thunderbolt-Enabled Computer for Maximum Performance.
Sonnet Technologies has announced the availability of the Sonnet DX Thunderbolt Adapter for Avid Media Composer Mojo DX and Avid Nitris DX.
Formerly built by Sonnet and offered by Avid, the DX Thunderbolt Adapter is now marketed exclusively by Sonnet to users of Avid's Mojo DX digital video capture, editing, monitoring, and output system and Nitris DX high-performance SD and HD broadcast news editing system. With the DX Thunderbolt Adapter, media professionals can leverage these Avid solutions with Avid editing software on any Avid-qualified, Thunderbolt-equipped computer.
"There are many Sonnet products that have enabled the Avid user community to harness the power of Thunderbolt while preserving their investment in PCIe cards and devices. The latest example is the DX Thunderbolt Adapter, which enables users to get amazing performance from their investment in Mojo DX and Nitris DX when upgrading to state-of-the-art platforms such as the new Mac Pro," said Greg LaPorte, vice president of sales and marketing, Sonnet Technologies.
With the Sonnet DX Thunderbolt Adapter, media professionals can use Mojo DX or Nitris DX in conjunction with Avid editing software running on any Avid-qualified computer equipped with Thunderbolt ports. The DX Thunderbolt Adapter delivers smooth, highly responsive performance for two streams of uncompressed 10-bit HD video with eight audio streams. With ultra low latency and high sync accuracy, the adapter enables editing workflows that are faster and more efficient than ever.