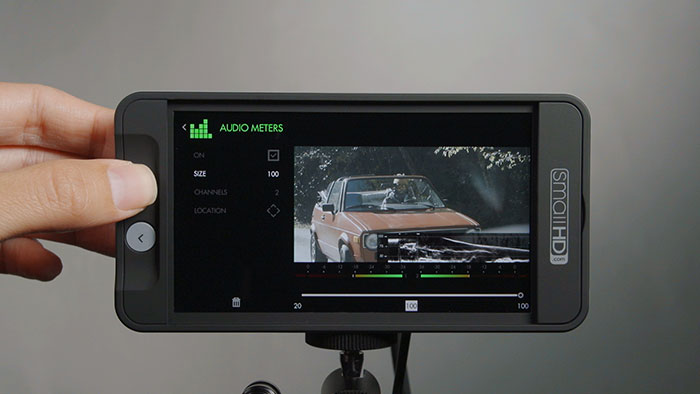 SmallHD's New 500 Series Update adds Image Capture & Overlay, HD Waveform and Audio Meters
Posted on Jun 16, 2015 by Alex Fice
SmallHD has released new features for their new 501 and 502 Full HD 5-inch on-camera monitors via firmware upgrade version 1.0.
SmallHD's new 500 Series monitors deliver 1920×1080 resolution images on a 5-inch screen. The free firmware upgrades both 500 Series monitors with features like Image Capture of up to 1080p raw images from the live camera feed. Also Image Overlay lets users load any JPEG—including an image capture—from the SD card and display it at varying opacity levels over the live camera feed, providing a comparison between two shots.
New analysis tools include HD Waveform which displays monitor luminance or individual RGB levels in HD resolution, and on-screen Audio Meters accompanied by Audio Line Headphone Output.
New viewing functions include the Canon DSLR Scale that enables filling the entire screen with the image when using Canon DSLR cameras. Regardless of camera used, the Auto Image Flip function orients images right-side-up even when the monitor is mounted up-side-down. Anamorphic De-squeeze displays a normal image even when shooting with anamorphic lenses.
There's now access to the Display Calibration LUT (lookup table) within each monitor, allowing the user to replace the factory-generated Rec.709 colour calibration with another 3D LUT file from a colour management application like Lightspace CMS.
The free Firmware 1.0 update is available now at: http://www.smallhd.com/community/500-series-waveform-audio-meters
New analysis tools include HD Waveform.