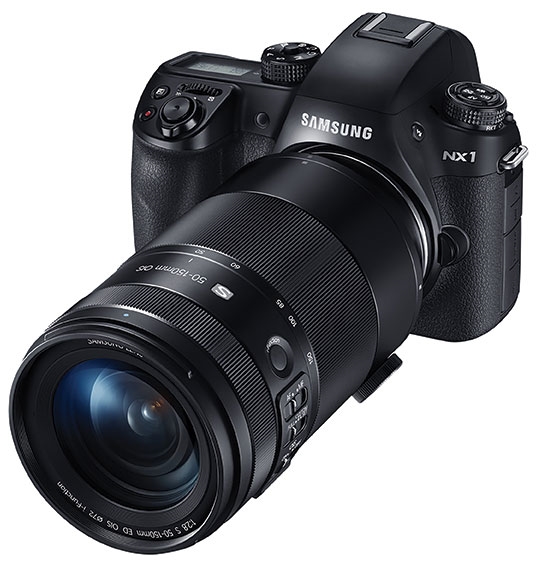 Samsung Join the Ranks of Mirrorless 4K Cameras
Posted on Oct 21, 2014 by Alex Fice
The new Samsung NX1 has full manual control of video exposure, white balance and audio.
Following the IBC Broadcast and Photokina international tech events, our thoughts ran to witnessing the end of HD as the highest resolution standard for video. When a company who has no history in video brings out a stills camera that can record DCI 4K (24fps only) to internal storage with a new codec (H.265) for HD the game is up.
Its video function lets you manually control ISO, shutter speed, aperture, focus, white balance and audio. The NX1 supports both 4K and Ultra HD (UHD) video recording. The inbuilt HEVC Codec (H.265), claims to compress video to half the size and bit rate of H.264 footage without compromising on quality. Data rate is up to 80Mb/s (As good as 160Mb/s say Samsung) and internal recording is to Class 10 SD cards up to 64GB in size. A clean HDMI signal lets you use an external recorder.
The camera has a 28MP APS-C backside illuminated sensor with ISO up to 25600 (expanded to 51200) and full phase detection AF usuable for video. Samsung also offer a transcoder for your files to ProRes, DNxHD and Cinema DNG as editing H.265 is difficult at the moment.
The NX1 will be available in the UK on November 20 for £1299.
NX1 footage from Samsung: