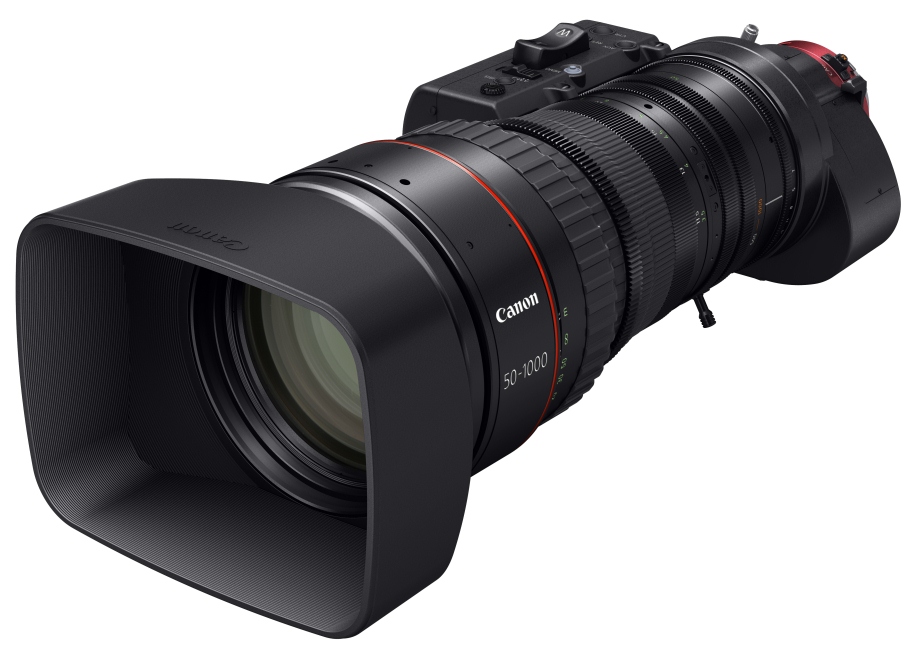 Canon Announce New PL Mount 50-1000mm Lens, CN20x50
Posted on Oct 16, 2014 by Alex Fice
The new 50-1000mm lens from Canon gives the choice back to the cinematographer who is using large sensor and/or 4K.
Just in time for Wildscreen, the bi-annual meeting of Wildlife folk down in Bristol, the rumours of a new long PL mount lens for documentary use are true. We had heard that it was on the way but for wildlife it had to be fairly long, i.e. 400mm plus.
DoP Mike Brennan summised, "If  Canon were not building something from scratch and if they wanted to make some compromises for those shooting for 4k TV (such as wildlife guys) they might revise the 17-120, making it a say a 34-250 (not long but certainly portable). Or make a revised 40x (T2.8 ramping to T5.6) HD to PL lens. The PL version would be two stops slower than HD and they could prevent it zooming past say, 35x to maintain quality. They could also create a 24-840mm T 5.6 (ramping to around T8).
"What we have learnt from Speed Booster and the modifications that Angenieux made to the 24-290 to enable it to cover RED 5k, is that only the rear part of the lens needs to be changed to provide a large image circle. Angenieux turned the 24-290 into 28-340 by minor alterations to the rear elements."
Barry Bassett from Rental company VMI describes the situation facing cinematographers stepping up to larger sensors and even 4k, "Cinematographers migrating from 2/3″ format acquisition to large sensor and particularly 4K, were faced with limited choice of lenses available for large sensor cameras and these were very large and heavy and only offered around 1/3 of the range of equivalent 2/3" lenses.
"It was very easy when shooting with documentary 2/3" B4 cameras such as the Sony PMW-500 and PDW-F800, as Canon had enjoyed widespread success with the introduction of the stabilised HJ40x10 and HJ40x14 lenses, which had an equivalent PL focal range of 25-1000mm and 35-1400mm and more recently the HJ18x28 (equivalent PL range of 70-1260mm).
"Until now, the Angenieux Optimo 24-290 and Canon 30-300 were the longest PL mount lenses on offer to cinematographers shooting with large sensors and 4K and there is a HUGE difference between how close the shot on a 300mm lens is compared with a 1000 or 1400mm lens and until now there simply were no alternatives available and this was very limiting.
"Natural History producers shooting Super16 will remember the Optex/Century 150-600mm zooms converted to PL use but the range simply did not compare with the long video lenses or indeed what Canon have just announced…"
The introduction of the new Canon CN20x50 50-1000mm/T5-T8.9 lens really is a game-changer, since it is the first lens to offer a comparable range to these long documentary lenses AND includes a PL mount compatible with ARRI Amira, RED EPIC, Canon C500 and other similar cameras and achieves full 4K resolution as well.
Additionally, it also offers a 1.5x range extender, which actually increases the possible range to 1500mm – albeit with an appropriate loss in sensitivity, though worth mentioning that environments where the long range is required would generally be outdoors where there is plenty of light and sensitivity is not an issue. The lens is also fast for its range with maximum aperture of T/5 and only ramps to T/8.9 at the very end of the zoom range.
It is also not physically much larger than other zooms and only weights 6.6kg, so it is a perfect complement to Natural History or other productions where portability and range are important considerations.
Mike Brennan, "So a change in lens design to adapt existing 40x or 22x lenses from HD to 4K would require; new rear elements that spread out the circle of confusion to cover a larger sensor. (this is a much bigger enlargement than what Angenieux achieved) and much tighter control of polishing and assembly of the rest of lens to improve MTF and resolution.
This new lens is due for release in early 2015.