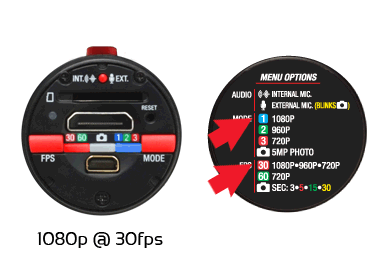 Replay Looks To Edge Into GoPro Market
Posted on Jun 14, 2011 by Alex Fice
The new Replay XD1080 is in direct competition with GoPro with it's 1080p camcorder recording to MicroSD cardsThe very small HD camera market just got interesting with the release of the Replay XD1080 camera (above). The all important measurements are 28 mm in diameter x 93 mm Length with a 27 mm mounting diameter. Weight is 85g including battery and MicroSD card available to 32GB, 1 GB is 30 minutes.
A market which has been dominated by GoPro product in the last year now has another player and one that has watched GoPro flourish and perhaps learnt from its mistakes. XD1080's specs are here but the initial feeling is that it's cigar shape is easier to work with than the GoPro in a hard plastic square case.
The XD is water resistant not proof and is engineered from aluminium. Replay's marketing mentions aerospace and military spec for the body, whose military we're not sure. There is a 'vibration feedback LED light' which I suppose tells you when it's too bumpy,  but perhaps you wouldn't be looking at it when you're flying down a ravine!
Specs are similar to GoPro, H.264 file format and resolutions of 1080/30p downwards. There is going to be an audio line-in available very soon via an adapter. Streaming HDMI and import to iPad catches the eye. Also the field of view is good at 135˚.
The lens is a 6-element f3.1 type with an optional pro lens adapter and filter kit, made by Replay presumably. Changing modes on the GoPro can be tricky especially if you're pushing through the plastic case, Replay claim their mode changing is a cinch, see below – "There's no need to count button presses or reset your settings each time you use the Replay XD1080." You do that with the GoPro.
Camera modes