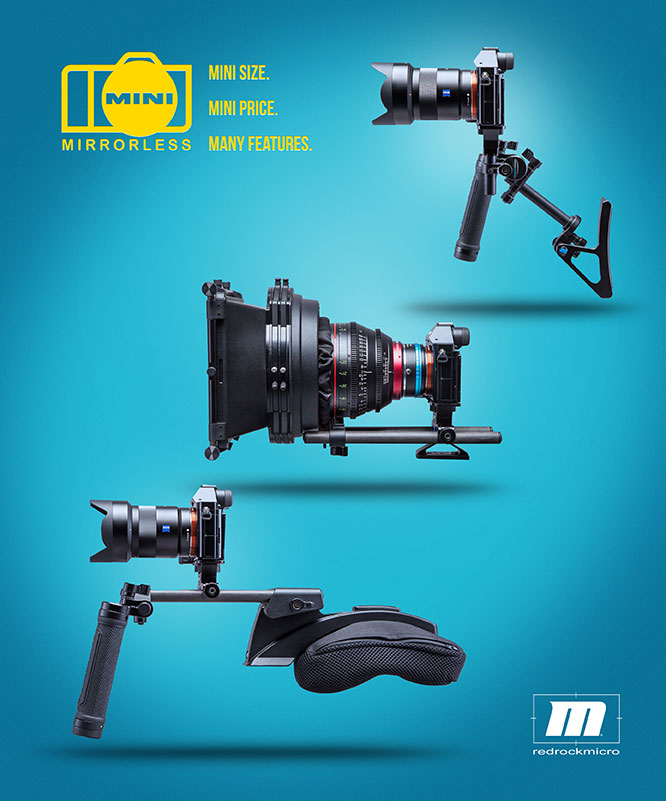 Redrock Micro Push Their Mini Rigs For Mirrorless Cameras
Posted on Dec 11, 2015 by Alex Fice
The three basic configurations of Redrock's Mini Rigs.
Have you hitch your pro video wagon to the new Mirrorless cameras from the likes of Sony? Well Redrock Micro might have the stabilising effect you're looking for with their new Mini Rigs. These rigs take Redrock's experience with cinema-style rigs and reduce them down for these smaller and lighter new cameras.
Mini Rigs are designed for today's smaller cameras including Sony Alpha A7S II, A7S, A7R II, Panasonic Lumix GH4, GH3, as well as DSLR cameras including Canon 5D series, Canon 7D series, and Nikon D810 series, D600 series, and D7000 series.
Mirrorless cameras record high-quality video, but their small size make stable shots difficult. Built-in optical stabilisation is good for photos, but doesn't help when moving the camera during video recording. Shooting video also often requires accessories such as lights, microphones, and recorders that need to be mounted to the camera.
This is where these Mini Rigs come in and Redrock has split them up in to three configurations for the common shooting styles, support options to attach camera-top accessories, and expansion possibilities for building any rig you want.
 Mini Handheld Rig –  Run-and-Gun type with three points of contact to help keep your shots steady. $299.00
Mini Shoulder Rig – With the self-leveling shoulderpad with FieldTech. $349.00
Mini Studio Rig – Classic shooting style using tripod or dolly. $725.00.