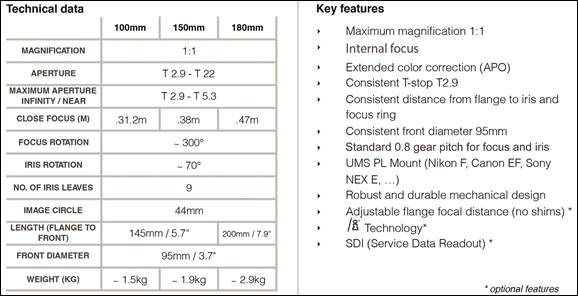 Band Pro Unveils New Line of IB/E Macro Lenses
Posted on Dec 14, 2015 by Alex Fice
IB/E President, Klaus Eckerl and Band Pro President & CEO, Amnon Band unveiled a new line of professional APO Macro FF lenses at Band Pro's One World Open House event on December 10th in Burbank.
The new macro lenses were designed to address the industry-wide movement toward larger format sensors (including RED Weapon 6K and 8K, Sony A7, and ARRI ALEXA 65 cameras).  These larger sensors deliver a convincing film-look and interesting bokeh due to their very shallow depth of field, and require lenses that can cover their larger camera sensor sizes.
The new APO Macro FF lens family consists of 3 focal lengths: 100mm, 150mm, and 180mm.  The lenses feature full frame (24mm x 36mm) coverage, 1:1 magnification, consistent T-stop T2.9, as well as robust and durable cine mechanics.
Based in Germany, IB/E is a globally respected optics manufacturer known for cutting edge expanders, adapters, and lenses, including the new Arri 65 lenses.
APO Macro FF lenses will be available Summer 2016.