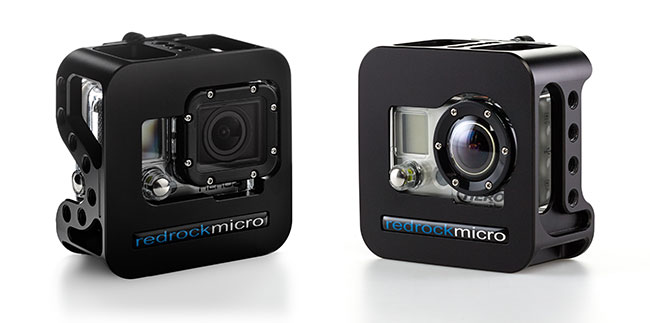 Redrock Micro Launches New Cobalt Cage for GoPro, Featuring First Cage for GoPro Hero3
Posted on Apr 8, 2013 by Alex Fice
GoPro's first cage from Red Rock.
Redrock Micro has announced its new line of Cobalt Cages and accessories for the GoPro cameras, including support for the new GoPro HERO3. The Cobalt Cage delivers an aluminum housing that encases the camera for ultimate protection, mounting and rigging support, and accessory attachments.
Constructed from precision-machined, military-grade aluminum, this GoPro cage is impact-proof, crash-proof, crush-proof and bulletproof, making it an essential GoPro accessory for keeping the camera secure and shots rock-solid and stable. The Cobalt Cage's reinforced, high tensile design gives shooters extra confidence when using their GoPro in extreme POV, risky camera setups or insane camera mounts.
The Cobalt Cage opens up mounting possibilities with four sides of industry-standard ¼" taps. This enables GoPro cameras to be mounted directly to standard video gear including fluid head tripods, ballheads, and suction cups. The Cobalt Cage's multiple attachment points support three-point rigging for the ultimate in shot stability and camera placement. A GoPro finger mount plate is also included so existing GoPro accessories and GoPro mounts can also be used with the Cobalt Cage.
Attaching accessories to the Cobalt Cage is also possible. Mount up LED lighting, microphones, additional power–anything needed to elevate the shot's production value. For example, a naked GoPro in the Cobalt Cage, a suction cup, microphone, and LED light can be used for interior car shots with superior picture and sound. An optional shoe mount can be added to the cage for attaching shoe-mount accessories as well.
Price is $99.