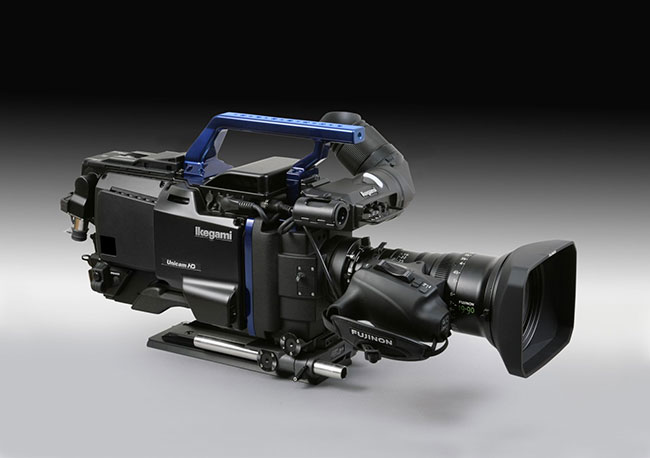 NAB 2013: Arri And Ikegami Produce A Hybrid Broadcast And Digital Cinema 2k Camera. The forerunner to a 4k broadcast camera?
Posted on Apr 8, 2013 by Alex Fice
The new HDK-97ARRI is a broadcast-style production camera with digital cinema characteristics. This Arri and Ikegami development points the way towards making it possible to employ a large format sensor in multiple camera operation. The aim is to produce a 'best of both worlds' image acquisition system for use in multi-camera studio and field applications, including conventional broadcast camera operation and video operator control of multiple cameras.
Centered around ARRI's Super 35mm CMOS sensor with its associated support circuitry and lens mount system, the system provides what DoPs are used to with wide dynamic range and progressive frame rates like 23.98p. Meanwhile, broadcast-grade distribution is enabled with Ikegami technology, via fiber transmission using up to 2 km SMPTE hybrid fiber/copper camera cable.
Ikegami integrates this high performance system for broadcasters, by integrating it with a docking style camera head from its Unicam HD camera series. Powered by Ikegami's latest 3G FPGA-based DSP, the HDK-97ARRI provides complete real time control of all gray scale, colour, and detail functions.
Additional features of the HDK-97ARRI include:
– Operation in standard and 3G formats, including 1080/23.98psf 4:4:4
– Custom and Cine Gamma
– Continuously variable ECC (electronic colour temperature correction)
– 2-inch, 7-inch, and 9-inch viewfinders available for studio and field applications
– Electrical lens interface for PL lenses with servo iris (and servo zoom and focus)
– Wide range of ARRI and vendor accessories.
The HDK-97ARRI will be on display at Ikegami's Booth #C5108.