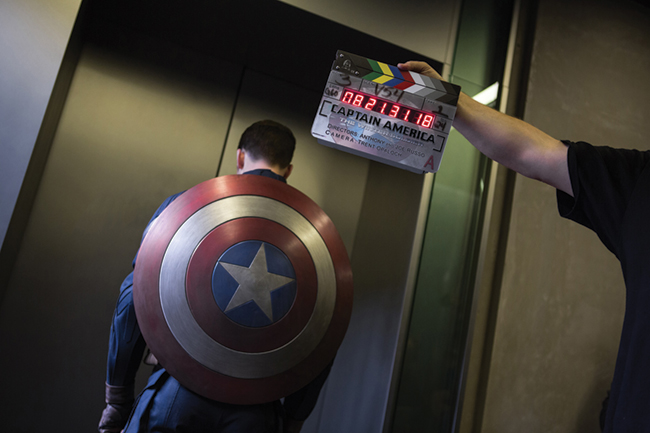 Hollywood Loving Alexa/Codex Combo
Posted on Jun 10, 2014 by Alex Fice
Codex recording technology has been used by Marvel Studios to streamline the capture-to-post workflow on several high-profile productions, the most recent of these being Captain America: The Winter Soldier.
Cinematographer Trent Opaloch chose to frame the action in a widescreen anamorphic format, captured by ARRI Alexa Plus cameras shooting ARRIRAW with a 4:3 sensor and Codex Onboard S recorders.
"The most important thing for me was to get the best image, with the best camera system, using a bombproof pipeline from camera to edit," says Opaloch. "Marvel has had a great, successful run over a number of pictures with Alexa and Codex. They've invested in Codex Vault. I was very happy with the Alexa/Codex combination. Technically, I never felt any restrictions."
For Marvel's X-Men: Days of Future Past, Newton Thomas Sigel ASC shot native 3D using dual ARRI Alexa M cameras, Codex recorders and TS5 3D rigs from 3ality, with Codex recording up to 60fps in ARRIRAW for each channel.
The Arri Alexa Codex recorder combination is giving productions what they want at the cutting edge of digital cinematography.
If you're looking for the best camera, recorder and pipeline combination for your latest blockbuster movie, you could take some advice from some heavyweight DoPs.
Regarding the Codex/ARRIRAW workflow, Sigel said, "It helps in terms of colour correction and image quality, because you're getting the highest resolution possible. I like the look of Alexa very much. It's a kind of softer look, with more half-tones, more variations of colour, and it's a better look for this project. In post, starting from scratch with the ARRIRAW image gives you the greatest range, and the maximum ability to manipulate and make subtle adjustments."
To capture the moves on dance comedy Cuban Fury (Big Talk/Studio Canal), cinematographer Dick Pope BSC deployed a trio of ARRI Alexa cameras, using Cooke S4 lenses, recording ARRIRAW to Codex OnBoard M recorders. The production also used dual Codex Vault systems as part of streamlined cloning, QC, LTO-tape archive and deliverables workflow, which enabled material to rapidly enter editorial and for the data packs to be efficiently recycled.
"Codex Vault was perfect for this production, as it allowed us to remain small scale," observed Peter Marsden, Cuban Fury DIT. "Normally on a digital feature, you have lots of equipment that adds lots of weight to the camera truck, but all that was reduced to a single, compact machine. We didn't have the risk of sending original camera media off-set for processing. It was all done within the confines of the location. Codex Vault clones the media very quickly and provided the assurance that it was correct and secure."
Other movies that harnessed Codex in their camera to post workflows, and coming soon or already here include: Maleficent (Walt Disney Pictures), cinematographer Dean Semler ACS ASC; The Fault In Our Stars (20th Century Fox), cinematographer Ben Richardson; Hercules (MGM/Paramount/Spyglass), cinematographer Dante Spinotti AIC ASC; and Under The Skin (Film4/BFI/Studio Canal), cinematographer Dan Landin BSC.