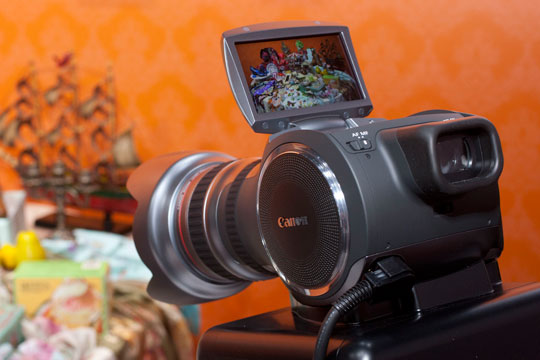 Possible Specs For New Canon Video Camera?
Posted on Sep 20, 2011 by Alex Fice
At the Canon Paris Expo last October, they were showing this 4k video and stills prototype. Perhaps this is the big surprise on November 3?Some one on the GTC Forum in the UK has claimed he has seen the specs of the new Canon video cameras being launched this November. He quotes as follows.
"Don't tell anyone but I have seen specs and pics of the new cameras and I'd say they are more closely competing with the FS100/AF100 cameras, but will give the F3 a very good run for the money.
"They will be badged as EOS, despite the fact they are video cameras, and there will be two versions – one for EF lenses, the other with an PL mount. I'm guessing here but the PL mount camera may offer more options than the EF version – e.g. SDI out and genlock… etc in the same way that the XF300/305 cameras have differentiated themselves.
"Its a Super35 4K sensor, but from what I have seen only records 1080 in-camera, using the same XF codec – i.e. 4:2:2 @ 50mbps. Perhaps the PL version will output 4K thru SDI?
"The size of the camera looks similar to that of the FS100, but more rounded/ergonomic. It has a similar LCD screen on top, but it seems more flexible – i.e. allowing for greater viewing angle/for versatility.
"This could be a killer camera, and one well worth waiting for if any of you guys are thinking of buying a F3/FS100 or AF100…"