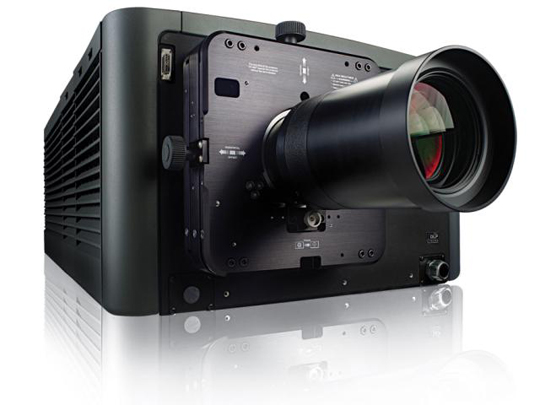 Christie show 60 frames per second 3D for the first time
Posted on Sep 20, 2011 by Alex Fice
Christie's Solaria Series CP2230 projector showed the 60fps 3D with a combination of other currently available products like the RealD XL Cinema System and International Datacasting's SuperFlex Pro Cinema Event PlayerChristie used the occasion of 'The IBC Big Screen' theatre screenings at RAI Amsterdam last week to show what is believed to be the world's first mass-audience demonstration of a 3D High Frame Rate (HFR) D-Cinema system using a single projector.
Content showing the world-famous Cavalia equestrian production company in action was projected in 3D at 60 frames per second (FPS) during the 'Considerations for High Frame Rate 3D Technology' seminar, formatted by the SENSIO Hi-Fi 3D compression codec.
"This demonstration sets the scene for single-projector 3D HFR cinema content delivery, following on James Cameron's ground-breaking 'proof of concept' of HFR cinema content at CinemaCon 2011, which Christie assisted with," noted Dr. Don Shaw, Director, Product Management for Christie's Entertainment Solutions division
"The delivery setup used at CinemaCon was a customised solution that used two Christie projectors, broadcast (rather than cinema) servers and unencrypted, chroma sub-sampled colour data, and as such was not intended to be duplicated in cinemas globally when the latest digital 3D content in such widely-anticipated movies as Avatar 2 and 3, and The Hobbit, are released beginning at the end of 2012.
"Exhibitors are looking for complete systems that can be readily installed in cinema projection rooms to facilitate the rollout of these and other 3D HFR cinema productions, but to do so, technology manufacturers need to step up with cost-effective solutions that seamlessly integrate projectors, servers and 3D cinema equipment," added Dr. Shaw. "The next step in the 3D HFR solution is for vendors to develop and market new, more powerful and more versatile Integrated Media Block (IMB) server technology to provide the performance and security that exhibitors demand."
In a related move designed to accelerate the development and adoption of next-generation 3D digital cinema, Christie and James Cameron's Lightstorm Entertainment, Inc., announced the signing of a five-year agreement that will see these two industry leaders exchange research, testing, development and technical support on the industry's most exciting new technology.