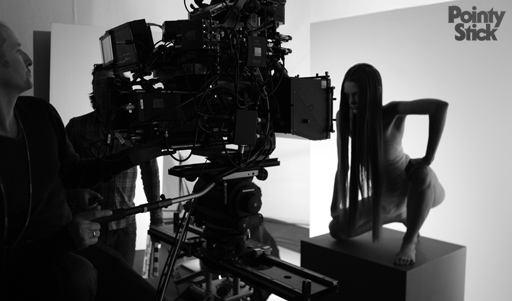 Pointy Stick Production Company To Exploit 3D's Potential
Posted on Jan 5, 2011 by Alex Fice
Tigi/Unilever wanted a beautiful image experience that broke with the visual cliches of hair commercials and instead confidently and simply celebrated hair for its natural and authentic beauty. Conceived and directed by Michael Lindsay, the piece features three statuesque models and was shot in one day using Inition's Red-based 3D camera system.3D production services and technology company Inition has joined forces with accomplished director and creative technologist Michael Lindsay to launch Pointy Stick to help exploit this nascent medium to its full creative potential.
Pointy Stick represents a roster of emerging new talent, bringing together a collection of original and fresh creative minds from around the world, all of whom are already successful within their respective 2D worlds but are forging new paths into S3D work.
Pointy Stick's commercials director roster includes Fredrik Callinggard whose IKEA commercial Kitchen Dreams won a Gold Lion at Cannes in 2006; Gaute Hesthagen who has a track record in high-end film and commercials; founder Michael Lindsay whose 3D work includes live event content for Unilever brand TIGI and a series of 3D films for De Beers; Mike Brady, who works across music, commercial and corporate video genres and recently directed a 3D ad for Royal Mail; and award winning wildlife duo Deeble & Stone who recently collaborated with Inition to produce a 3D pilot for their feature film Distant Thunder.
Andy Millns commented: "Pointy Stick stands out in the field for having both creative credibility and fantastic 3D technical credentials under one roof. We have the crucial technological lineage and support built up in Inition which is a major defining asset. The most exciting thing about this new venture however, is that we now have the framework in place to focus on expanding the creative parameters of what is possible in 3D."