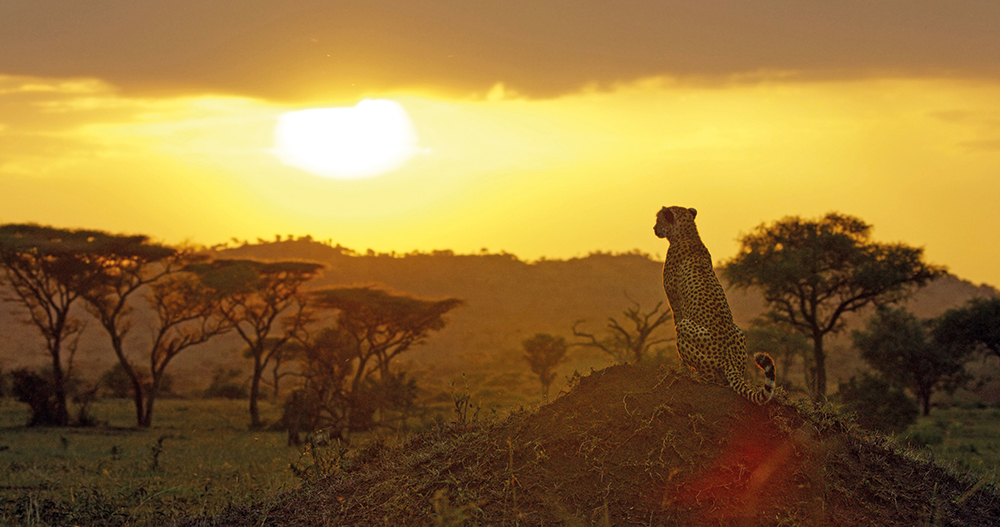 Playing the field
Posted on Sep 28, 2019
Disney drama is one thing, but there's no substitute for the theatrics of day-to-day life in Tanzania
---
Words Phil Rhodes/ Pictures BBC
The wildlife of Africa is no stranger to the idea of foreigners bearing cameras. Few visitors are quite so determined, though, as producer-director John Downer and his crew, the people behind the natural history series Serengeti, which began airing on the BBC in July 2019. Shot in the Grumeti Game Reserve in Tanzania, the series of six one-hour episodes creates what Downer calls an "immersive look at natural history". There is a narrative for each of several named animals, highlighting nuances of their behaviour that aren't always revealed by a more conventional approach to filming wildlife.
With a background in natural history and documentary stretching back to the early eighties, Downer has always been keen to leverage technology in pursuit of something other than, as he puts it, "the long-lens look" at animals. "It's camera-oriented," he explains. "Part of my role is trying to develop camera systems and work with incredible cinematographers to achieve that immersive view inside the animal world. I've always been trying to get this immersive look but, up until very recently, it was almost impossible."
Downer credits several recent inventions with moving production closer to his immersive ideal. "One is drone technology, which has allowed us to get cameras where it was difficult to get them before – and the cost is lower. The other thing is the stabilisation systems." All of this technology, Downer says, adds up to "a huge array of camera systems that we tested for about a month before we even started shooting properly, to see what we would need to get this more dramatic style". He wanted to get subjective viewpoints and multiple angles of the same event, "so
we could film it more the way you would film a drama".
FOOTAGE FLOOD
Serengeti produced 3500 hours
of captured footage. The narrative was built freely from the available material, sometimes substituting one animal for another in the interests of a coherent storyline and occasionally compositing shots (though nothing was ever computer generated).
The sheer logistical problem, though, was severe: "Just viewing it would take half a year if you spent all night and all day," Downer says. "There was a great backup team, which was starting to reduce that down to story elements. [Editors] Stuart Napier and Imogen Pollard had to develop this much more drama-like style, which included subjective viewpoints, and also managed that amazing amount of material."
Remote cameras could be triggered by the animals themselves
RED 8K
Serengeti was principally shot on 8K Red Helium cameras. Other cameras, particularly the Panasonic Lumix G7, were used for situations where the Helium was too bulky. "We had remote cameras triggered by the animals themselves," Downer continues. "The Reds are sometimes a bit too big." With all the cameras capable of at least 4K, the crew shot at the highest resolution they could to better facilitate reframing and stabilisation in post. "If we could shoot at 8K, we'd shoot at 8K. That's just a natural part of the whole process now. We can creep into the heads of the animals when they're reacting to something. That's where the extra headroom you get if you shoot 8K was really useful." Perhaps predictably, wildlife can be hard on equipment. "We had quite a few cameras trashed," Downer admits. "We operated with a lot of remote cameras that could be left all day – they were being triggered by the animals themselves, and that was a quite important part of the look. When you're dealing with hyenas, they love them and they'd carry them off." At that point, recovering the camera became an exercise in recovering the recording media. "We put trackers on them, and you realise that they've taken it to a muddy, urine-soaked pool. And you have to find it, and it tends to be… well, we lost quite a few cameras," he recalls.
Classic Canon
Given the range of situations involved, it's perhaps not surprising that Downer describes using "a huge array of lenses". For him, one of the most important was the Canon CN20x50, which could be mounted onto one of the stabilised camera systems. "The quality is amazing. We can track animals wherever they go and keep a stabilised image." The stabiliser, a Shotover F1, is perhaps most at home on the underside of a helicopter, and has been used to photograph subjects as diverse as MotoGP and skateboarding. "The whole thing had to be incredibly robust as well," Downer says. "We had to be able to shoot the moment anything happened. It had to be on all day. There was never a moment it was turned off. The stabilisation systems were working when we were travelling over rough terrain. It was hard on the equipment, but we had to be ready to film the unique events that happened."
But it paid off, and the tricky task of capturing rare animal behaviour enjoyed a much-improved success rate. "In the past," Downer enthuses, "particularly in the film days, you'd only capture 10% what you saw. On this, we wanted – as soon as we'd seen something – to get a camera on it and be travelling towards it and still be filming. We missed about 10% of what we saw rather than the other way around. That was really important in terms of capturing the behaviour, because those amazing moments are a flash, and then they're gone."
It's no secret that good natural history work can require patience, and Serengeti was shot across almost two years. Downer and his crew made the best use of every available second over those two years. "We filmed every single day we were out there," he remembers, "otherwise, that's the day everything happens and you miss it. There's no point having time off, because everyone wants to be out there. We're in this business because we love what we do."
An average day, he says, began before first light: "So that's about quarter to six, generally. We got back after it's dark, so we were getting back seven or eight. It's a full African day, plus the darkness either side to get home. The best time for any action is towards sunset or just before dawn – when things start to kick off."
Coverage
The production used up to three crews to ensure continuous coverage over the long shooting period. They were initially camping, but quickly moved to a fixed site for better electrical and internet services. "Sometimes, we had two crews working together and sometimes three crews, so we were able to get multiple perspectives on the same event," explains Downer. The benefits of multiple cameras for a natural history production are clear, helping to gather complete coverage of an unmissable event in a single take with the world's least cooperative cast. "There were some people providing an overall wide, then some providing detail, providing ground-level shots and some who could move around among the animals – and we had drones as well," he adds.
Each crew comprised a cameraman and assistant, though, as Downer says, "the assistant was also shooting and there were directors, too. If I was out there, I'd have a camera, so everyone would have different camera system to get different shots. The minimum crewing with a driver is three; usually it would be four people, or five or six per vehicle, but we tried to keep it to a minimum."
 Finding the action, of course, is key to any natural history production. "We'd always have a plan where we were going to go, what we'd filmed before and the characters we were following, but we'd respond to the sounds, what we'd hear and what we'd see, and that would change in an instant. You follow your instincts, really," explains Downer. Despite the long days and unpredictability of the animals involved, Downer emphatically dismisses any thought of boredom. "You don't get bored. You can get frustrated, after several days with very little story, but you go out on another day and you may get three bits of incredible story. It's rewarding, because those bits help you forget the rest."
Season's colours
The production was finished at Evolutions under colourist Blair Wallace. The unvarying look of many Africa-centric productions, Downer feels, is due to a tendency to shoot at a certain time of year, something he was keen to avoid. "Most people filming in Africa film when the grass is short, when the herds are there and they've chopped the grass down. It's starting to dry out and you get a more washed-out kind of look. We filmed in the rainy season, which nobody usually dares do because it's so easy to get bogged down."
With more rain, dust is laid and foliage flourishes. "When you've got a lot of rain, there's a crystal clarity to the image you don't often see in Africa. The colours are bright and intense and the greens are intense, everything feels intense. Episode 5 is the drought, and that changes." Downer compliments Wallace's attention to exactly this sort of subtlety: "He was amazing, very sensitive to it. I think, for everyone, this project has been a labour of love."
Behind that enthusiasm, though, is a layer of sheer technological capability. "When we started Serengeti, for the first time ever, I started on a project with all the technological innovation I needed," enthuses Downer. "Obviously, it improves over time, but I'd never been in that situation where everything I'd ever dreamt of, I had. If I'd tried to make it three years previously, I wouldn't have been able to. And the crew's amazing: Rich Jones, Michael Richards, Matt Goodman (an incredible drone operator) and Warren Samuels."
Downer's Spy in the Wild 2 is due to broadcast early in 2020, and work on more Serengeti material was just beginning at the time of writing.
Serengeti, with John Boyega narrating, was broadcast in the UK by the BBC. The US version, narrated by Lupita Nyong'o, premiered on the Discovery channel in early August.