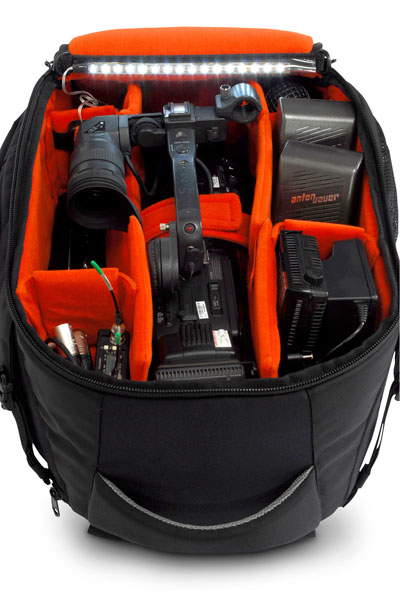 Petrol Bags Announce Deca Camback Plus
Petrol Bags new Deca Camback PlusPetrol Bags has introduced the new Deca Campack Plus carrier for on-the-move camera work when travel and hiking to locations is required.
Petrol's ergonomic backpack system is designed to provide correct weight distribution and greater carrying comfort. The bright orange padded central compartment has room to hold a Sony PMW-EX3, Panasonic HVX200/DVX-100B or similar size camera without disturbing the mic or viewfinder.
Removable articulated dividers offer additional protection and can be folded to form enclosed storage pockets for important accessories. A secondary two-sided zippered rear compartment holds a laptop with up to a 17" screen.
Other features include exterior front and side accessory pockets, an interior mesh pocket for additional storage, padded top handle, dual directional easy-glide zippers and exterior straps for carrying a full-size tripod. The optional Petrol exclusive LED internal light may be added to illuminate the Camback Plus interior.