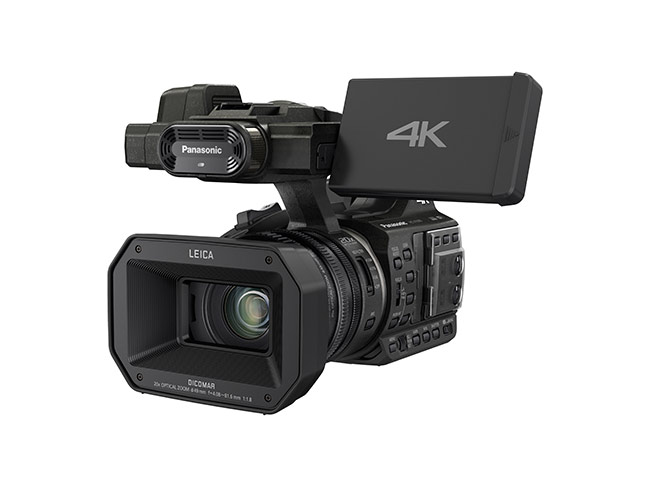 Panasonic's New 4K Compact Camcorder
Posted on Sep 4, 2014 by Alex Fice
Panasonic's new compact 4k camcorder – 4k without having to wait for it.
Panasonic launched a broadcast 4k camcorder yesterday at IFA in the guise of a prosumer model. The HC-X1000 records 4K 60p/50p video images to a SD card. The important numbers are QFHD resolution (3840 x 2160) and Cinema 4K (4096 x 2160) formats at 60p/50p frame rates.
Panasonic claim that the HC-X1000's 1/2.3" BSI Sensor 'offers increased readout speed which makes it possible to handle large-volume 4K data at 60 fps/50 fps, suppressing the rolling shutter distortion that often occurs when shooting moving subjects'. They'll be plenty of shaking of the product when we get to IBC to prove this either way.
Featuring a LEICA lens and three ND filters (1/4, 1/16, 1/64) and a 20x optical zoom lens into an extremely compact body.
File formats including AVCHD, MOV and MP4 – and with high bit rates employing ALL-Intra compression for a maximum bit rate of 200 Mbps. In addition, features and functions such as three manual rings, 2-Channel XLR Audio Input Terminals, ND Filters, and Dual SD Card Slots are included.
A neat trick is with Background Recording, you can set the SD card in Slot 2 to record continuously from the moment a recording event starts, and record only necessary scenes onto the SD card in Slot 1 by turning REC on and off. This eliminates the worry of not recording important scenes that take place while the REC switch is turned off. We think this means you can end up with a rough edit on Slot 1 but it will be in HD not 4k.
The HC-X1000's 3.5" Slide-Retractable Touch LCD serves as an HD, 1,152,000-dot monitor and menu-setting touch panel. When not in use, it slides into the front handle for extra mobility and safety. It also rotates 270 degrees vertically for easy high-angle, low-angle and self-interview shooting.
The HC-X1000 also sports a 2-channel XLR audio input terminal for external microphones or line recording with a +48 V phantom power supply.