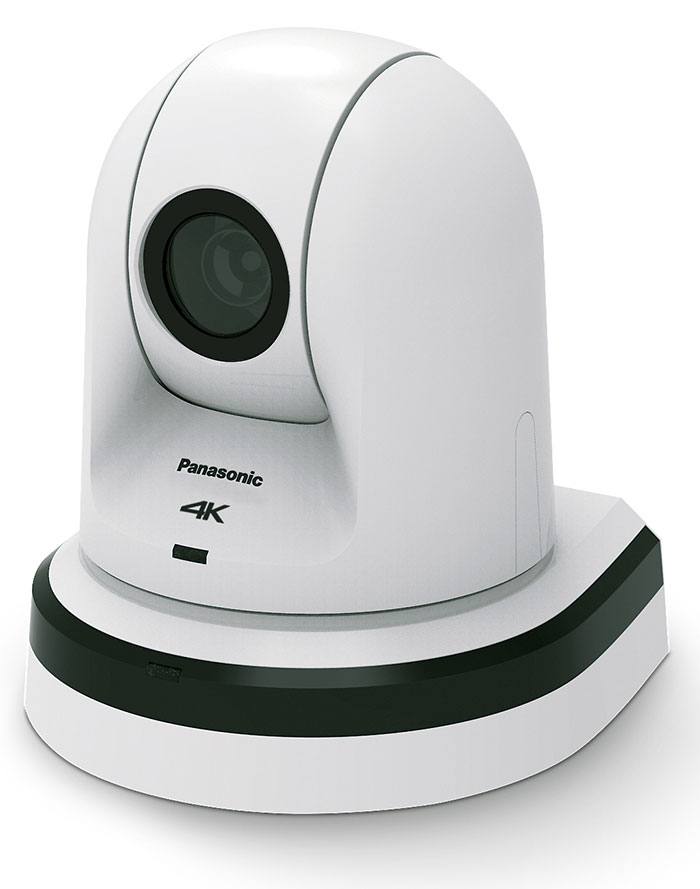 Panasonic's First 4k PTZ Camera
Posted on Jun 18, 2015 by Alex Fice
Panasonic's new AW-UE70 is packed with features including HDR and web browser control of up to 16 cameras – too good for reality show?
Panasonic's Pan Tilt Zoom (PTZ) AW-UE70 camera delivers 3840 x 2160 resolution at 25p via HDMI, and is capable of 4K IP streaming and in-camera 4K recording. In addition to 4K 2160/25p, the camera delivers many international HD signal formats including 1080/50p, 1080/50i, 1080/25p, 1080/25PsF and 720/50p. 
The UE70 offers key features aimed at production such as genlock, Optical Image Stabilisation (O.I.S), and remote switchable ND filters. The camera comes with 3G-SDI as well as HDMI video outputs and incorporates a 1/2.3-type MOS sensor and advanced processing. It also boasts direct from camera audio/video streaming up to 2160/30p and in-camera video and audio recording to a microSD card at 2160/25p or 1080/50p. 
Jaume Miro, Product Manager for Panasonic Remote Camera, said, "The camera's flexible 4K/HD capabilities make it a good choice for broadcast as well as demanding installations in stadiums, conference rooms, auditoriums and events, where ultra-high resolution video and precise control are required. 
"Standard IP-control, built-in audio input and Power over Ethernet enables innovative 'single-cable' installation. A USB Webcam for videoconferencing and collaboration, a 20x zoom lens, preset functions and wide field of view (65.1°) mean the camera offers operational flexibility."
IP, RS-422 and RS-232C in/out interfaces are included, as well as a built in web server which enables both browser control and IP-live preview, for up to 16 cameras, from PCs, Macs and mobile devices.  RS-422 Serial or IP control is available using Panasonic's AW-RP50, AW-RP120G controllers, AK-HRP200G paintbox and the AW-HEA10 control assist camera, as well as appropriately programmed systems from Crestron, AMX, Winnov, and other manufacturers.
The UE70 includes many features that expand the capabilities of professional video system users. In addition to Panasonic's Dynamic Range Stretch (DRS), advanced Digital Noise Reduction (DNR) and an High Dynamic Range (HDR) mode means good images, even in extreme contrast and lighting conditions.
The UE70's Night Mode makes it possible to shoot in virtually total darkness, by automatically switching to high-quality, HD monochrome video with the use of an optional IR illuminator – making the camera ideal for reality shows, sleep lab research and staging support.
The UE70 incorporates a pan-tilt head (with a pan of ±175° and a tilt of –30° to 90°. This enables precise, fast, fluid movement in all directions, for the capture of both slow and fast-moving objects without excessive vibration and bounce.
The AW-UE70 comes in black or white and will be available from October 2015.