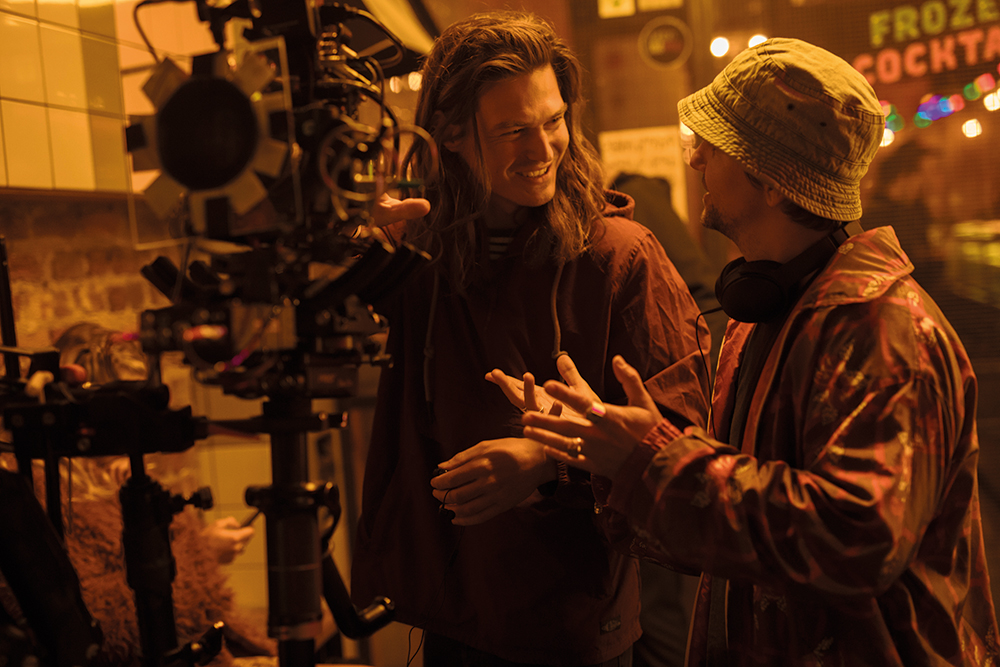 Panasonic goes to Hollywood
Posted on Nov 8, 2019
At the launch event for Panasonic's Lumix S1H in Los Angeles last month, we interviewed DOP and director Peter Hamblin, who had exclusive use of the camera for his short film 
---
Words Chelsea Fearnley / Pictures Peter Hamblin
Panasonic aptly chose Los Angeles as the spot to finally unveil its first full-frame cinema camera, representing a new zenith of production capabilities in a mirrorless camera. During the launch, the company screened a series of short films that had been shot on a prototype of the S1H. We caught up with the DOP and director Peter Hamblin, whose film riffed on Tinseltown and its Greek underworld of lost souls who moved to LA in the hope of 'making it'. It centres around two brothers, one of whom has lost all hope, while the other is still in pursuit of their shared dream of becoming filmmakers. We ask Hamblin what he thought of the camera and if it will, in itself, 'make it' in Hollywood: the home of professional filmmaking.
DOP Sam Dewar and DOP and director Peter Hamblin collaborating on set, above and top
Q: So, first of all, is there anything you've drawn from your own filmmaking experience that triggered your interest in making this piece?
A: The film is called In Hope of Nothing and it's called that because we, as filmmakers, often set out on projects with blind optimism. We get super excited – at least I do – and then we run into people who will shut us down. For instance, when I first came to LA, I spent three thousand dollars getting here, because I had an interview about a surf film that I was working on – which I thought was greenlit. Anyway, I went into this guy's office and after around 20 minutes he said: "Well, it was nice to meet you, we should definitely work on something in the future." After that, I got into my car and, as I was driving around LA, I came up with the idea of making a film about the trials and tribulations we go through as filmmakers. In Hope of Nothing is quite tongue-in-cheek, but ultimately, it's about persistence. It's about encouraging filmmakers to continue through the hardship, in the hope that one day they will make it.
Q: What were your references for the style of the film?
A: I love anything that has a vintage feel to it – something that's a little bit lost in time. I tried to capture that aesthetic in the brothers' personalities. Nicky is a sex addict and you can see that, in his world, he is afflicted by his addiction. He can't walk down the street – which is lit in the style of the 1982 Blade Runner – without being cajoled by women. Then, you go into Jack's world, which is emptier by contrast. We're first introduced to him in a derelict seventies bowling alley, and although the film is set in the modern day, Jack is stuck in a different time. He's a lost soul.
Q: Why did you decide to work with the Lumix S1H?
A: We were approached by Panasonic to create some content for the launch event and, after finding out the camera could record the full 3:2 sensor in 6K for anamorphic shooting, I thought it would be a great opportunity to bring my idea to life. I have always liked the look of central symmetry, where your subject is in the centre of the frame and, with anamorphic, you're forced to do that. But I had never worked in anamorphic before, so it was like learning a new language. It's just an evolution of filmmaking for me. I won't lie to you, though, I did have a backup camera on set, but there wasn't any need to use it. When I first saw the image in the monitor, it was exactly how I envisioned it. I think we were destined to work with the Lumix S1H on this film.
Q: Which lenses did you pair with the new camera?
A: I used Cineovision Anamorphic lenses, which are Japanese lenses from the seventies and eighties and, although Panasonic has said the S1H is designed to produce a sharp image, the lenses have, by contrast, created an organic softness and a fall-off around the edges. And this, to me, speaks in volumes as to what this camera can actually do, because it's a transparent communicator of what the lens is capturing. It has personality.
Q: Both scenes where we meet the brothers include a lot of harsh, fluorescent lighting. Did you have any problems shooting that?
A: We didn't have any real problems with the light. If you look into both scenes, especially in the bowling alley, there are so many different lights, but that's what we wanted. We wanted it to look a bit crazy, with neon lights coming in from all angles and, although the lens flare is big, it doesn't overwhelm the image. Everything held up really well.
We did have one small incident, however, with ghosting on one of the fluorescent lights, but I think that was down to human error, because we only had a couple of days to shoot these scenes with a small monitor to hand, and we must have just missed it. Also, the HD-SDI input wasn't working on our big monitor at the time, so we didn't see the light clipping until the film got into post-production.
Q: What equipment did you use to move the camera?
A: In the first scene, where you see both brothers in a sort of dream sequence, dressed to the nines and surrounded by adorning fans, there are fifty extras that we paid for just an hour and a half of their time. We needed to be quick and agile, so Steadicam was our best option – and actually, that stuck for the other two scenes, where you meet both brothers in their realities. But that first scene, it was tough. We only had 12 hours to prep and shoot the whole thing because of where it was set (RIBA Library, London). Usually, I would spend a day or two beforehand prelighting and blocking scenes, but it was all go, go, go. It's quite spectacular how we pulled it off, because it looks stunning.
Q: Did your Steadicam operator find any drawbacks working with such a lightweight camera?
Sam Dewar and Peter Hamblin examine a shot on the Panasonic Lumix S1H
A: My Steadicam operator is called Josh Brookes and he's incredible. I don't think he found any drawbacks from that perspective, but he did have a problem with the rigging and the cages we made. The cages we made were set up very last minute, and he wasn't able to access certain things on the camera properly. Often, we would set up for a shot on the Steadicam and the battery would die, and so he would have to take it out of the cage, which debalances everything, and set it up again. It took a lot of time, but Panasonic is launching a dedicated cage for the S1H very soon.
Q: Now you've made this film, what would you like to do next?
A: If we can motivate more budget and hire more crew, we would like to continue the film. We've pulled off things I didn't think were possible. We wrote a script, found the locations, prepared the sets and shot all three scenes in just one week. It's a good job the S1H was so reliable, because it meant we could have a little more leeway for everything else.