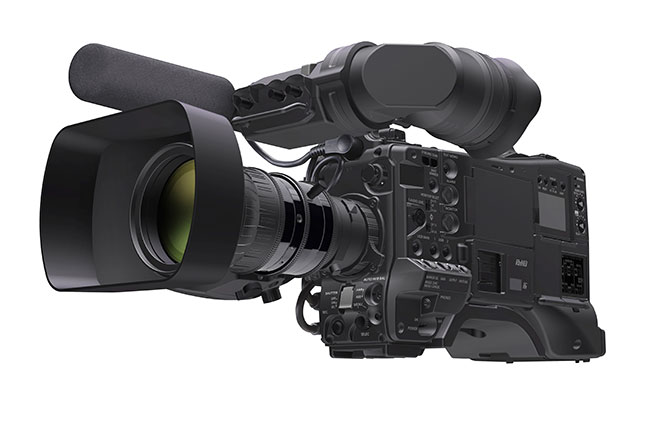 Panasonic and LiveU launch commercial bundle to customers worldwide
Posted on Sep 16, 2015 by Alex Fice
Panasonic's AJ-PX5000 is one of the cameras that will be liable to the LiveU bundles.
Panasonic and LiveU have teamed up to launch a bundle package that includes Panasonic cameras and LiveU's ultra-small field unit.
A result of an on-going strategic collaboration, the seamless package will be available worldwide and combines Panasonic cameras with LiveU's LU200 transmission solution.
The discounted bundle will initially launch in Europe through the Panasonic and LiveU reseller channel, but availability will grow globally. It enables production houses, freelancers, online media, as well as broadcasters to benefit from professional-grade live video acquisition in the field.
It links Panasonic cameras to LiveU's Central cloud-based IP management platform, using LiveU's robust cellular bonding and live streaming. The system also enables remote control of the camera. The bundle currently applies to four Panasonic cameras: AJ-PX5000, AJ-PX270, AJ-PX800 and AJ-PX380.
"LiveU and Panasonic have already developed and launched P2 cameras with a single LTE dongle, for live streaming directly to LiveU Central cloud management system. Now we would like to offer our end-users another live streaming solution using our P2 cameras and LiveU bonding devices," said Kunihiko Miyagi, Director of Professional AV Business Unit. "LiveU and Panasonic are always thinking of how to improve the flexibility and convenience of our customers' workflow in the field."
Samuel Wasserman, LiveU's CEO, said, "We greatly value our long-standing collaboration with Panasonic and this product bundle brings exciting new opportunities to the video professional market, enabling users to enhance their live video capabilities with a streamlined flow and reliable, high quality uplink.
"It's the ultimate solution for end-to-end high quality streaming from the camera to the viewer, leveraging the embedded management platform and camera controls. We have a vigorous roadmap with Panasonic and this offering shows that it's leading to concrete results in the field."