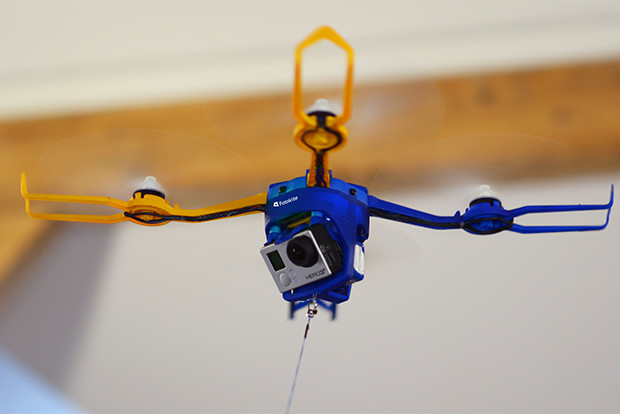 Not A Drone But An Intelligent Kite – Fotokite Phi
Posted on Aug 20, 2015 by Julian Mitchell
Swiss manufacturer Fotokite has followed up their Fotokite Pro product with a Indiegogo crowd sourcing project for their consumer product Fotokite Phi.
Fotokite Pro is a tethered drone with a land based power supply that can run the Fotokite for long periods. The tethered element has persuaded Switzerland's and France's aviation associations to deem them safe and exempt from license. Fotokite Phi might achieve the same status as it's restricted to just 26ft of tether and is run from on-board batteries which gives it at present about 10 minutes flying time (they're aiming for 15 mins).
No GPS, no camera, no remote, no Smart phone tie-up, no gimbal, this is a no frills product which is looking to retail at USD$500. But sign up for a pledge and you could get 50% off that. As of today they have already raised over USD$107,000!
The Phi has an intelligent tether which looks like a dog leash control. You press a button and turn the handle and the Phi follows you – has it any choice? Fotokite also note that people can see who is controlling the drone above them which helps with intrusion questions.
We liked the Pro version because of its powering capabilities and crowd safe philosophy. The Phi is the same but how long will it take you to want to break free from the tether and also get bored with having the tether in your shots most of the time unless you position the camera the other way in the cradle which isn't ideal. Also without a gimbal how steady will your shots be?
Should be in retail first quarter next year.