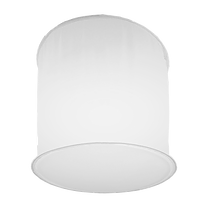 New Ultra Soft LED Lights From F&V
Posted on Apr 19, 2016 by Alex Fice
F&V at NAB 2016 has introduced their UltraColor Soft series, a new line of ultra-soft LED fixtures. Upfront features are bi-colour, TLCI of up to 99, compact, bright, passively cooled and of course super soft. With the optional intensifier, the Z400S Soft provides up to 4400 lux @ 1m of UltraSoft light with a beam angle of 50°, flicker free up to 15,000 fps. The light beam without the intensifier will go to 130˚.
As the fixtures are bi-colour you can adjust the CCT to set the mood of a scene or to match other light sources. F&V claim you don't experience brightness loss at daylight or tungsten compared to mixed colour temperatures, as is common with other bi-colour fixtures.
The KS-1 Softbox includes a grid to focus your soft light and to reduce spill. A hard honey comb option is also available that attaches to the face of the light fixture.
The Space Light as a key light.
You could use their space light to bring up the ambient levels of your scene or use it as a large, super-soft key light.
The UltraColor Z400S Soft will start shipping in May 2016 and the Z800S Soft will become available in June 2016.
www.ultrasoftlight.com