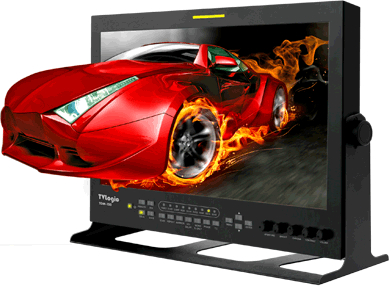 New OLED Monitor From TV Logic
Posted on May 16, 2010 by Alex Fice
New this week is the TDM-150W Organic Light Emitting Diode (OLED) 15 inch HD 3D monitor from TVLogic.
The TDM-150W 3D monitor offers all the benefits of OLED technologyThe TDM-150W is one of the world's first professional 3D display to take advantage of the properties of OLEDs. Also available fromPyser-SGI in the UK is the TVLogic LEM-150 – a 15 inch HD OLED monitor for 2D display, offering many of the benefits of the TDM-150W.
It offers many benefits over conventional flat panel designs, including the widest colour gamut, 100,1000:1 contrast ratio, fast image response and full 180 degree viewing angle for the most vivid 3D experience yet. "It is the ideal monitoring solution for 3D production and on-set stereoscopic visualisation."
The TVLogic TDM-150W uses a 15 inch (16:9) 120 Hz Active Matrix Organic Light Emitting Diode display (AMOLED) at native 1366×768 resolution combined with active shutter glasses for 3D display. Included among the many other features are full HD/SDI input and output support with 3G and dual-link; 2D/3D Hot Key; Left/Right Channel Only function; and Firmware Update using Ethernet or USB. Power consumption is low at around 42 W maximum.
A carrying case, V-mount, 19 inch rack mountable kit (6U) and sun hood are available as optional accessories.