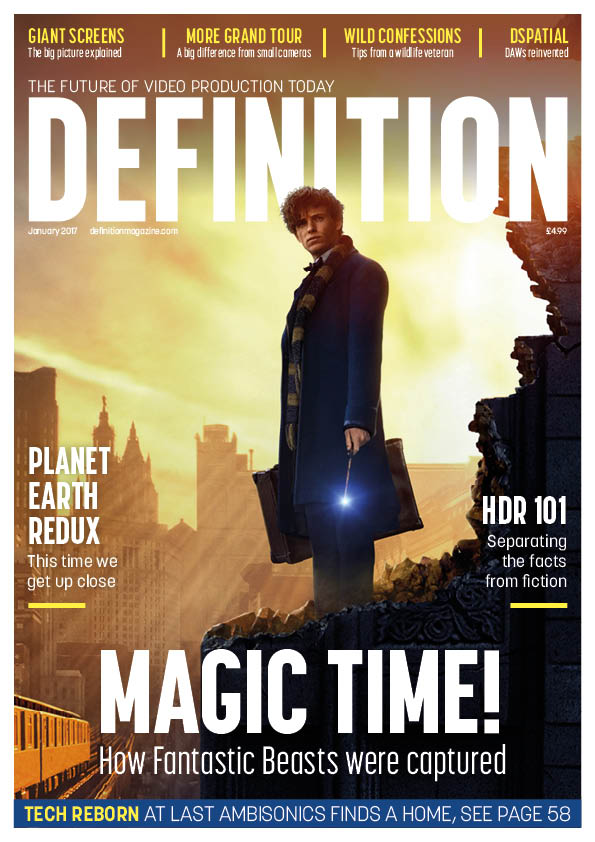 New Issue Of Definition Magazine OUT NOW!
Posted on Dec 2, 2016 by Julian Mitchell
What you definitely need in your monthly professional video magazine are stories on the best movies and the best television. How about Planet Earth II and Fantastic Beasts And Where To Find Them. You also get a rare insight in to how to shoot for natural history; another dose of The Grand Tour; shooting for giant screens; more HDR de-bunking and much more.
Planet Earth Redux
A decade ago the original Planet Earth spoilt us with a high aerial view of the world that we hadn't seen before. Planet Earth II brings us down to 'Earth' with a much more immersive experience. We talk to the shooters and producers about how they used technology to enable the great sequences.
Wildlife Confessions
25 Year Wildlife veteran John Aitchison filming Peregrines among the New York skyscrapers.
John Aitchison is a 25-year wildlife cinematography veteran. He specialises in the long lens shooting of birds but that's putting it too simply. His experience with animals allows him to build a story as situations unfold in front of him. Here it talks about how to construct a sequence of shots that will make your producer proud.
Magic In The Big Apple – COVER STORY
From a text book reference in a Harry Potter book to a tent pole VFX extravaganza. We look at the making of this long awaited movie with interviews from Philippe Rousselot, the cinematographer and the team who had to wrangle the huge amount of data from the ARRI cameras.
The Grand Tour – Small Cameras Story
The Meccano-like car supports for the small cameras of The Grand Tour. (Pic © Ben Joiner)
Now The Grand Tour is finally out and we can see how fabulous it looks we carry on the story with a look in to the vital role of the minicams. These are the cameras inside and outside of the cars and other vehicles the team decide to banter about. But here the demands on the mostly consumer devices are harsh and un-ending.
How To Shoot For Giant Screens
There are big screens and then there are GIANT ones. What you need to know to shoot for them and we're not talking IMAX at the local Cineworld here.
Although there aren't that many what are called 'giant' screens in the world, at the moment around 236, the shooting regime for them is unique and not much to do with an IMAX movie theatre. We talk about the history of 'Giant', the techniques of the correct aspect ratios and more importantly the framing.
Review: Sennheiser AMBEO Microphone
Ambisonics was invented in the 1970s by the genius mathematician Michael Gerzon. At the time it was great technology looking for a solution. But now VR and 360˚ have arrived Sennheiser has released their AMBEO Ambisonics microphone to capture the spatial audio for your surround video project.