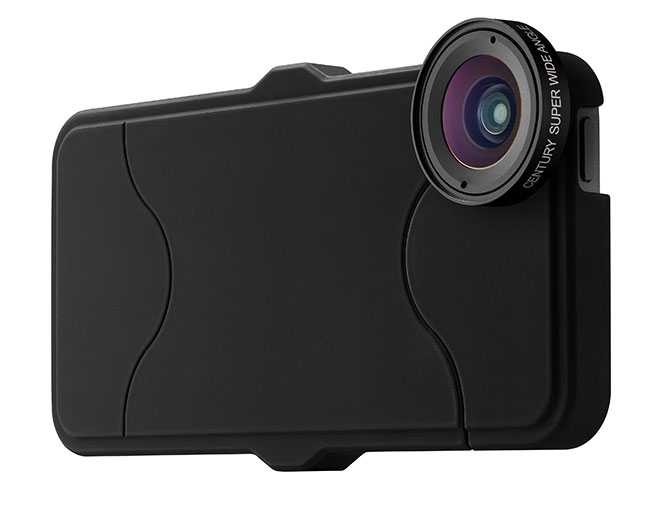 New iPro Lens System for iPhone 5 from Schneider Optics
Posted on Jun 27, 2013 by Alex Fice
Schneider Optic's new case/lens combo has been designed specifically for iPhone 5s.
Lens and filter maker, Schneider Optics, has now made its add-on lens system for the iPhone available for the iPhone 5. Their system has also added more lenses, including a new Macro and Super Wide.
The iPro Lens System is interchangeable and includes Macro, Wide Angle, Super Wide, Fisheye, and Telephoto lenses with you having to unscrew and screw the tiny lenses in to place on the case. So you don't have to carry around the lenses you aren't using along with you keys in your pocket there is an integral black case that doubles as a handle. A bayonet mount fastens the lenses to the custom iPhone case.
Due to the iPhone 5 design, the Schneider team engineered a new, outer case. It's a two piece design which slides on the phone, having not used the product we hope the join is well engineered so the lenses line up with the phones lens everytime.
For the iPhone 5 Schneider engineered a new family of lenses: the Series 2. This includes a new Fisheye, with 180 degrees of view with a larger image circle and sharper images. With a 150° increase in width, the Super Wide doubles the field of view of the iPhone's built-in lens. The 2X Tele lens was designed from the ground up.
Those who already own the original iPro lens series for the iPhone 4 and 4S ware able to use their existing lenses on the iPhone 5 by upgrading to the new iPro 5 Series 1 case. The 2-section case features a bayonet mount to accept both the original iPro optics and the new Series 2 lenses as well.