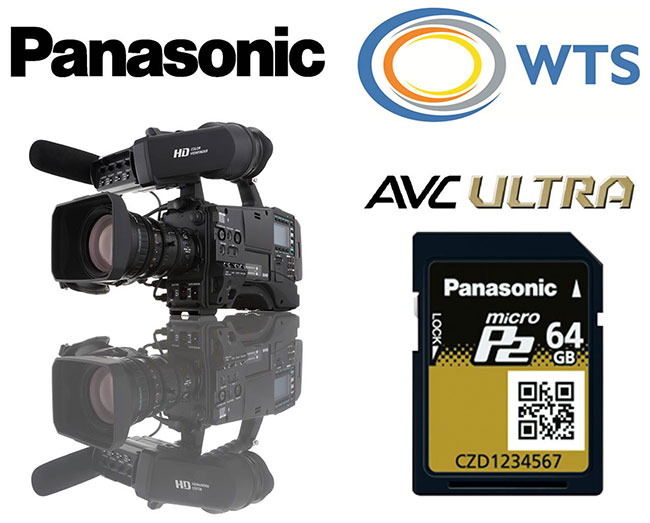 Major European Distribution Deal For Panasonic With WTS
Posted on Jul 4, 2013 by Alex Fice
Panasonic should increase their market share with their new tie up with WTS.
Panasonic Professional Camera Solutions announced today that it has formed a partnership with WTS Broadcast, a major supplier of broadcast solutions, to resell Panasonic professional broadcast equipment. WTS will leverage its expertise in the international market place to broaden Panasonic presence to a number of key vertical markets including broadcast systems integration and live events.
WTS is one of the largest professional broadcast camera suppliers in the UK, so the addition of the Panasonic professional broadcast range to their supply catalogue will see the company enhance their offering to production and broadcast companies across Europe.
On signing the deal with Panasonic, WTS Sales Manager Duncan Payne commented: "We are delighted. Panasonic has an impressive portfolio of products, and our in-house technical expertise at WTS makes it a strong partnership. The forthcoming move to AVC Ultra is an exciting one, and the technology advancement to microP2 opens up new opportunities for us. Panasonic pan and tilt solutions are industry standard now, so with our large Systems Integration division offering bespoke technical solutions, we look forward to a productive relationship"
Nigel Wilkes, Group Manager at Panasonic Professional Camera Solutions added; "WTS is the ideal partner to help us expand our market presence. The company's extensive experience and diverse industry knowledge in offering complete end-to-end broadcast solutions offers a natural fit with the Panasonic platform of professional camera products. They will be able to expand on our established relationships with international broadcasters, as well as their excellent network and customer base in our traditional vertical markets."