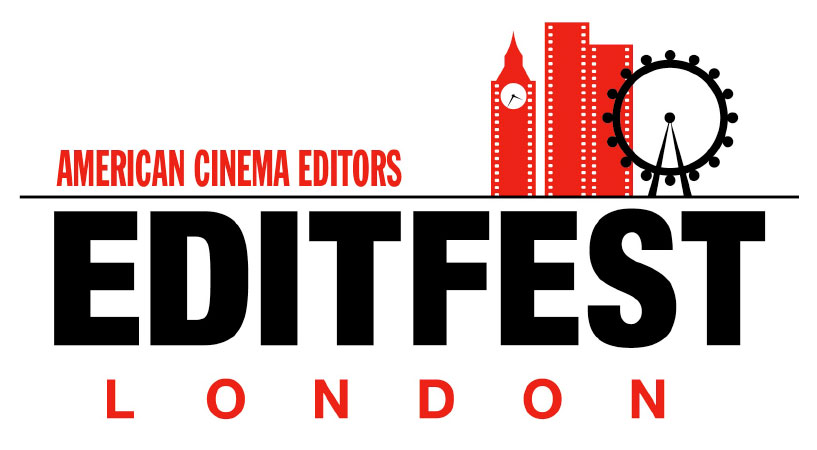 EditFest Debuts in London This Saturday
Posted on Jun 24, 2013 by Alex Fice
American Cinema Editors Debut EditFest London with a World-Class Line-Up of Editors
On 29 June, 2013, American Cinema Editors (ACE) will present the London debut of its popular event, EditFest. After five years in Los Angeles and New York, EditFest London will take place this Saturday, the 29th of June, marking the first time the event has traveled outside of the U.S. An impressive roster of top editors is scheduled to share their experiences with attendees for a full day at the Ray Dolby Screening Room in Soho.
ACE launched EditFest in 2008 in Los Angeles, in response to a need to put the industry's top editors in conversation with other editors and post-production professionals. By popular demand, EditFestNY was added to its agenda in 2010. Considered the premier editing event of the summer in the U.S., the move to London is part of ACE's efforts to provide programming and activities for a global audience. Designed for professional as well as aspiring editors, post production team members, content creators, production execs, and those who love the art and craft of editing, EditFest is a rare opportunity to hear the most compelling artists talk about their work and interact with them in an intimate theater setting. An impressive array of BAFTA, Oscar® and Emmy® winners and nominees are scheduled to be part of EditFest London.
ACE President, Alan Heim, A.C.E., stated, "ACE is thrilled to put these talented editors in front of and in touch with audiences in London. For the past 5 years, in Los Angeles and New York City, we have seen that there is a thirst among the editing community to meet, connect, and hear from their colleagues. We have had many requests over the years to bring EditFest to London and it's exciting to finally make the vision a reality. We are looking forward to engaging with the editing community in the UK."
Presided over by ACE Vice President, Stephen Rivkin, A.C.E. (Avatar, Pirates of the Caribbean 1, 2 & 3)
9:30am -­‐ 10:00am – Check-­‐in and registration
10:00am -­‐ 11:30am Small Screen, Big Picture – Panel with Television Editors
Moderated by Gordon A. Burkell founder of Art of the Guillotine.
Kate Evans, A.C.E.   (DCI Banks, Waking the Dead)
Kristina Hetherington, A.C.E.  (Room at the Top, Birdsong)
Oral Norrie Ottey  (Generation Kill, Game of Thrones)
Frances Parker, A.C.E.  (Game of Thrones, Rome)
11:30am -­‐ 1:30pm Lunch break
1:30pm – 3:00pm From Dailies to Delivery – Editing Features
Moderated by Mick Audsley  (Harry Potter and the Goblet of Fire, Prince of Persia: The Sands of Time)
Chris Dickens, A.C.E.  (Les Miserables, Slumdog Millionaire)
Tracy Granger, A.C.E.  (Still Life, Boys Don't Cry)
Eddie Hamilton, A.C.E.  (Kick-­‐Ass 1&2)
John Wilson, A.C.E.   (Day of the Flowers, Billy Elliot)
3:00pm -­ 3:15pm Short break before the final panel
3:15pm -‐ 4:45pm Closing Panel with Anne V. Coates, A.C.E.
ACE is honored to present an in-­‐depth conversation with the legendary Anne V. Coates, A.C.E. (Lawrence of Arabia, The Elephant Man, Erin Brockovich) moderated by Tom Rolf, A.C.E. (Taxi Driver, The Right Stuff, War Games)
5:00pm -­‐ 8:00pm Cocktail Party
EditFest London is also collaborating with the Third Annual London SuperMeet.  SuperMeets are annual events held in San Francisco, Las Vegas, Amsterdam, London and Boston. The London SuperMeet is set for Friday evening, 28 June in the Great Hall at the Kensington Conference & Event Centre.  SuperMeet attendees will receive a discount for EditFest.
Tickets for EditFest are available online at www.editfest.comfor £200/$299.  For further information, email [email protected] or call +1818.777.2900.
*Denotes BAFTA, Oscar®, Emmy®, ACE Eddie nomination or win