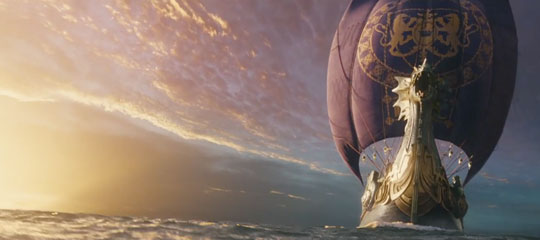 New Indian Prime Focus Facility Opened for 2D to 3D Conversion Contracts
Posted on Jan 10, 2011 by Alex Fice
Prime Focus' new Indian facility will concentrate on converting 2D film to 3D like the recent Narnia film The Dawn TreaderVFX Group Prime Focus has launched a new facility in Chandigarh, Northern India. This is the tenth Prime Focus facility in India. The company also operates studios in Hyderabad, Bangalore, Chennai, Goa and Mumbai, in addition to international facilities in London, LA, New York, Vancouver and Winnipeg.
The 50,000 sq ft facility, which opened on 25 December, will hold 3000 artists and will be dedicated to working on global projects, using Prime Focus' global digital pipeline which connects India to North America and the UK.
Merzin Tavaria, co-founder and chief creative director (India), Prime Focus commented: "Our new facility in Chandigarh is a major expansion of our View-D 2D to stereo 3D conversion capacity. Prime Focus has always wanted to mark its presence in Northern India, considering its existing strong presence in Western and Southern India. Chandigarh is an ideal location due to its huge student population, many of whom are looking to establish a career in animation and VFX."
Following the success of the newly released The Chronicles of Narnia: Voyage of the Dawn Treader, which Prime Focus converted to 3D for its theatrical release, the company has signed several new international orders and has a busy slate of 2D to 3D stereoscopic conversion work for this year. The opening of the Chandigarh facility will allow elements of this work to be handled in Northern India, by a new team and under the supervision of Prime Focus' expert team of stereographers.