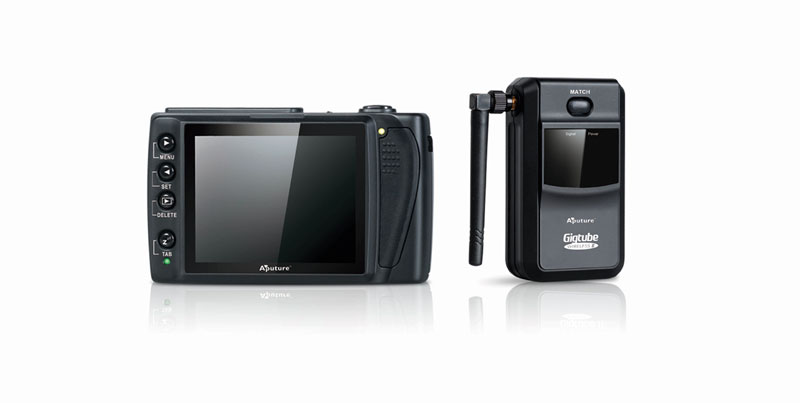 New Gear: Aputure Gigtube II DSLR Viewfinder
Posted on Feb 23, 2012 by Alex Fice
Aputure's Gigtube II is a remote viewfinder for DSLRsSeen at the recent BVE show on the Canford stand was this wireless viewfinder and remote control for up to four DSLR cameras. The new Aputure Gigtube II can be used remotely up to 100 metres over a 2.4GHz link for both stills photography and video capture. According to how remote control features in your life the £150 price tag is either good value or puts the Gigtube way down your priority list.
The price does have its downsides especially a 'plasticky' feel to the finish but you do get a 3.5 inch LCD screen with a collapsible and removable sun-hood, which also protects the screen when closed.
The receiver attaches to the camera via the hot-shoe mount and connects via the remote and AV-out connectors; an IR cable is included for Canon cameras. A built-in camera supports models without a live-view mode. The LED display shows current channel, which can by changed be pressing the 'match' button and has power and signal indicators. Included is a 1200mAh NP-60 battery that charges through the mini USB port, allowing up to 5 hours of continuous use.
Screen and remote – £150 from UK distributor CanfordThe remote has a 3.5 inch (320 x 240 pixels) LCD screen and a full-function shutter button that controls focus and shutter actions. The on-screen display shows the battery status of both receiver and the remote, shooting mode, live or mini-camera view and currently selected camera.
The four buttons on the back of the device control brightness, contrast, shooting mode, selection of connected camera, review images and sleep mode. On the bottom of the remote there is a quarter-inch tripod mount, and an AV-out/wired-control socket. As with the receiver a 12000mAh NP-60 battery is included and can be charged via the mini USB port, allowing up to 1.5 hours continuous use.