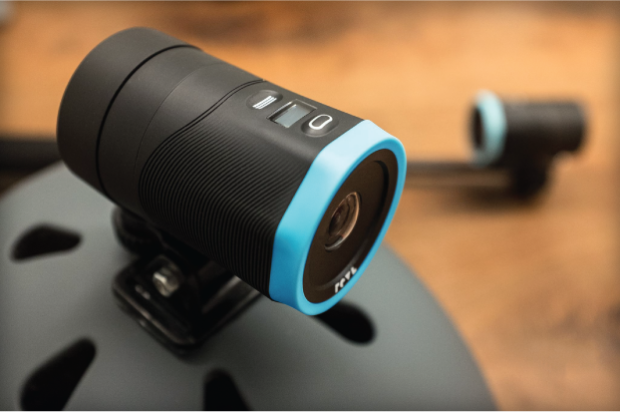 New 4K Action Cam Has Two Stabilisers And Records Telemetry
Posted on Apr 12, 2016 by Julian Mitchell
Crowdfunding site Indiegogo has a new 4K action cam with its sights on taking sales from GoPro cameras. The Revl Arc has some interesting features which sets it apart from GoPro's now pared down product range. The main one being the two methods of image stabilisation, one electronic and one motorised (GoPros currently have now on-board stabilisation). Revl argue that for GoPro to achieve some stabilisation would nearly double its price. Revl Arc $499 – GoPro Hero 4 Black with Feiyu gimbal $499 + £319 = $818.
Four sensors inside the camera look to correct rotation, elevation, speed, magnetic north as well as other motion telemetries. The other system relies on a physical motor built into the back of the camera to always keep the camera level to the horizon no matter where you are.
Video-wise with the Revl Arc you are getting the now standard 4k at 30FPS, 1080p @ 120fps and 720p at 240fps with a claimed 1.5 hour battery life (not sure whether that's with the stabilisation motor on or off). The 150g form factor won't win any design awards but is built out of a waterproof, soft rubberised body which looks grabbable and solid. They will sell their own mounts of course with items already on offer for Kite surfing and motorbike/bicycle.
The Revl Arc will also capture live data through the video file including motion: acceleration, rotation, speed, G-force and connects to external sensors like heart rate monitors and GPS. You get overlays on the App to illustrate this. Depending on your interaction with the sensors the App will then present you with a playlist of your best bits, as in how fast your heart was racing, how often you were upside down and so on. All editing is done on the app. The camera supplies raw footage and motion data which is used by the app to edit your video.
Revl are also looking to create their own ecosystem community and hopes users will track their progress over time, compete with friends, or compare stats with thrill seekers and professional athletes. DJI has just announced their own online drone social network with the same intention of creating a branded enclave.
Indiegogo says there are just five days left to get any investments made and receive the prizes for doing so. Revl has already achieved 277% of their goal target of $50,000 (that's $138,00). The Arc looks good on paper but as we all know making mass produced cameras is not easy.