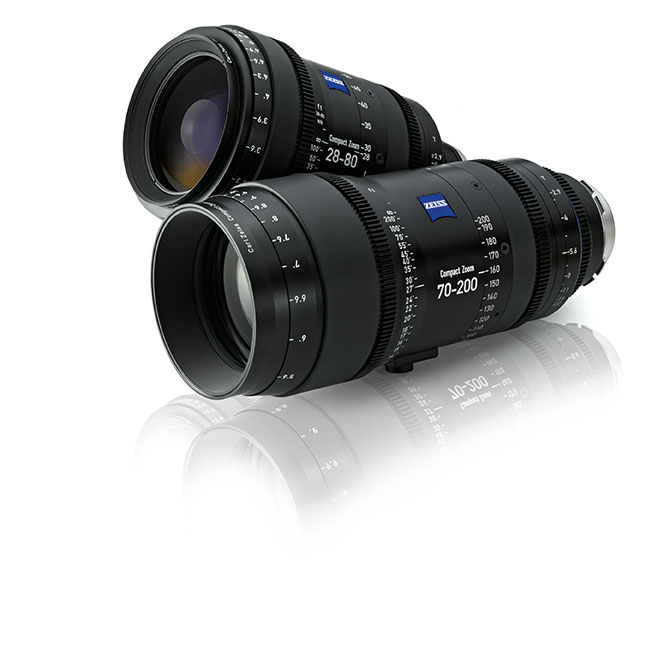 NAB 2013: Zeiss Bring Their Compact Zooms To NAB
Posted on Apr 10, 2013 by Alex Fice
Zeiss' compact zooms.
Carl Zeiss has shown its new zoom lenses from the Compact Family at the NAB Show 2013. The Compact Zoom Family currently comprises the CZ.2 28-80/T2.9 and the CZ.2 70-200/T2.9.
The ZEISS Compact Zoom lenses weigh just 2.5 to 2.8 kilograms (5.5 to 6.2 pounds). "For cinema zoom lenses, that is very little. The light and compact design is ideal for hand-held and steadicam shooting," explains Helmut Lenhof, Product Manager for the Compact Family in the Carl Zeiss Camera Lens Division. The lenses are suited for owner operators as well as episodic television series, documentary films, features and big-screen productions. Especially for shooting projects on a tight budget and time schedule, a ZEISS Compact Zoom lens is an extremely flexible solution.
Unlike zoom lenses for still photography, the Compact Zoom cinema lenses each have three independently moveable zoom groups. This complex design prevents undesired focus shift and ensures optimal image quality. The lenses have a continuous high aperture of T2.9 over the entire zoom range.
Filmmakers can also look forward to a new shorter super wide-angle zoom lens designed for the owner-operator when the Compact Zoom series will expand to a family of three at the end of 2014. This new zoom lens will replace the Lightweight Zoom LWZ.2.
As members of the ZEISS Compact Family, the zoom lenses are the perfect complement to the fixed focal length Compact Prime CP.2 and ARRI/ZEISS Ultra Prime lenses. Thanks to the exact colour matching within the ZEISS cinema lens family, all lenses in this series can be combined flexibly with each other, with no visible deviations.
They cover full-frame format (24x36mm) and can therefore be used on HDSLR cameras, as well as professional HD video and cinema cameras. Being designed as full-frame lenses, they create a sweet spot effect and a uniformity of illumination when used on Super 35 sensors and are 'future-proofed' for next generation digital cinema cameras utilising larger sensors.
Moreover, the interchangeable mount system makes it possible to use the lenses of the Compact Family on various camera models. The mounts currently available are for PL, EF, F, MFT and E. "Investing in this lens family is especially attractive for cinematographers and rental companies because the interchangeable mount also ensures the lenses' long-term compatibility in the rapidly changing camera market. For all relevant future camera models, mounts will be available which the user can exchange very easily," adds Lenhof.