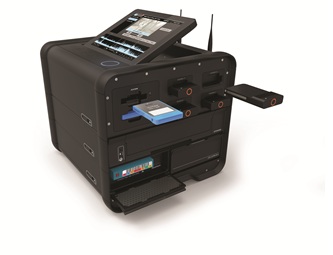 NAB 2013: Codex Define Their Workflow Credentials With GoPro And Canon 1D-C Added To Their Support
Posted on Apr 9, 2013 by Alex Fice
Codex's S Vault.
Even though Codex has provided the recording side of the new Alexa XTs, it is still primarily a workflow company. At the show they are showing a simple, streamlined workflow for RED, Sony and the ever popular GoPro cameras, in addition to its well-established workflows for ARRI and Canon, at NAB 2013.
Released by Codex last year, The Vault provides a standardized, standalone workflow for digital productions. It can be deployed on-set or near-set and offers a simple and efficient way to process dailies for review, editorial, post production and archive. Vaults have been used on numerous movie productions including Iron Man 3, Cuban Fury and We're the Millers. Customers include camera rental facilities such as Otto Nemenz, Clairmont and ARRI CSC. Marvel has also invested in several Vaults in order to simplify and standardize their productions.
Vault supports Sony F55 and F5 cameras through a new version of the Codex Process Module. It allows for the ingest and processing of XAVC format recorded to SxS cards as well as Sony's new Sony AXSM memory cards used to record the RAW output of the F55 and F5 with the Sony AXS-R5 recorder. The F65 is supported through the Sony Module, which includes two SR-D1 readers for the ingest of Sony SR Memory Cards.
The Codex Vault now provides readers for RED MAGS and allows for the addition of a RED ROCKET card for processing the R3D files from RED cameras, making it a valuable workflow addition to any production using RED.
Recognizing that more productions are using GoPros and Canon 1D-C cameras, Codex now supports the ingest and processing of footage from these cameras in the Vault as well.
After original camera data has been cloned to the Vault, metadata can be checked against camera reports and fixed or created as necessary. Data can be archived to LTO-5 tape using Vault's Archive Module. Dailies deliverables can be transcoded and detailed production reports can be created.
Other new Vault features include the Review Module for playback of material at up to 4K, Wi-Fi support for IPad control, and removable storage for the Storage Module.