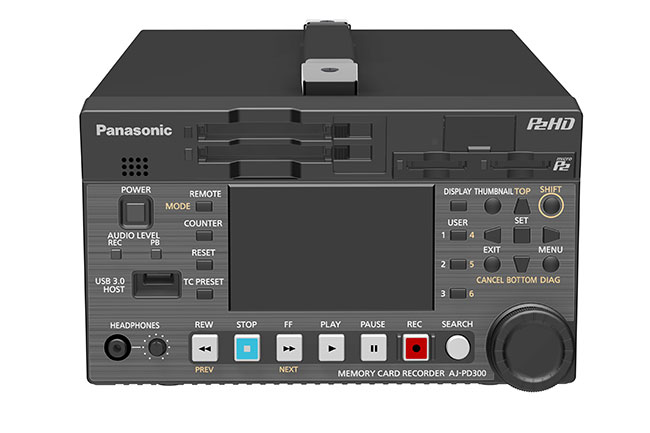 NAB 2013: Panasonic Unveil AJ-PD500 P2 Half-rack Recorder
Posted on Apr 6, 2013 by Alex Fice
Panasonic's PD300/500 P2 recorder has native AVC-Ultra recording with the brand new Mini P2 slots (right).
Panasonic has announced the AJ-PD500, its first P2 HD recorder with native AVC-ULTRA recording and built-in microP2 card slots. Its range of format choices (including AVC-LongG as standard, and AVC-ULTRA Class200, AVCHD playback and proxy recording as options) and array of professional input/outputs make the PD500 ideal for use in reality television, long-form documentaries, live events, satellite facilities, news trucks, and as a redundant playback/record device in news facilities.
The PD500's other features include a multi-control jog dial; native 24p recording, an USB 3.0 interface; and 24-bit four-channel digital audio, two-channel analog audio.
The PD500 has two built-in slots for Panasonic's new microP2 cards, which have an SD card form factor. The PD500 also has two standard P2 card slots
The PD500 offers native 24p 1080 recording and 1080/24PsF input/output. The recorder supports a broad range of high definition and standard definition recording formats including 1080 at 60p/50p/60i/50i/25p/24p; 720 at 60p/50p/24p; and 480/60i; 576/50i in the optional DVCPRO50, DVCPRO and DV codecs. The unit plays back HD/SD content automatically (no need to change settings) and is internationally operable in 50Hz or 60Hz.
Additional valuable features include up/down conversion, a USB keyboard connection for easy metadata input, waveform and vectorscope display functions, and a selection from many functions for allocation to six user buttons.
The PD500 will be available this Autumn, with a suggested RRP of under €13,000 excluding VAT.