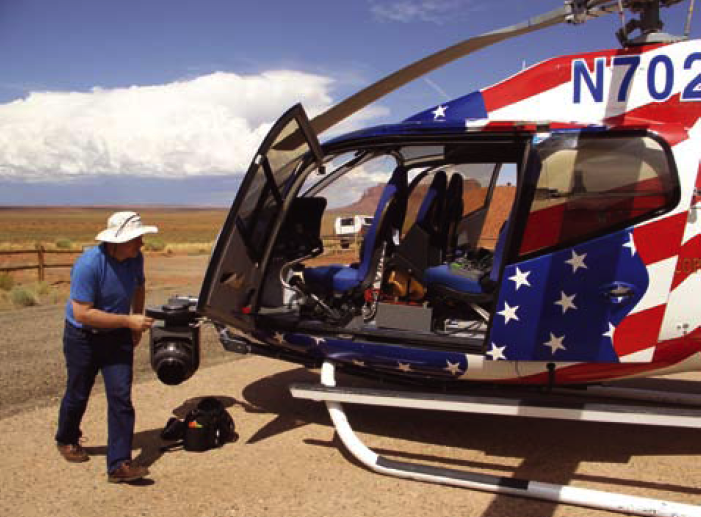 Making Of Motorstorm
Posted on May 19, 2010 by Alex Fice
HDCAM SR frame grabs from the Monument Valley shoot. The PS3 game features ungraded footage from the shoot just to prove that this was how the game was bornMICHAEL BRENNAN reports on how he shot the basic desert landscape for the new Motorstorm PS3 Game for SONY.
Since it was first announced, MotorStorm has been one of the most anticipated titles for the PlayStation 3. What intrigued enthusiasts and piqued skeptics was the high-quality rendered video sequences unveiled by Sony. UK developer Evolution Studios had a lot to live up to if it was to reproduce in-game footage which matched the high resolution images it was claiming in test.
"Normally you make your engine then make your game. We wrote an engine and built the game at the same time with hardware that wasn't pinned down whilst taking huge risks with a high definition technology we'd never used before,"
says MotorStorm producer Simon Benson. "But if you don't challenge yourself you don't learn anything. The whole point of the exercise was to push a game to new limits and showcase the capabilities of the new platform."
Evolution had spent the five years since inception in 2000 making the hugely successful World Rally Championship series for the PS2. At the beginning of the PS3 lifecycle they had the opportunity to make WRC6 as a launch title but convinced Sony to think again.
"We could have played safe and had a surefire hit with WRC6 but in reality we'd be putting out a niche product in a small market considering the number of consoles available at launch," says Benson. "We always wanted to do more than the WRC licence allowed us to do such as truly celebrate the car crashes. The idea was to develop a new, exclusive IP for the PS3, something that would show people what the kit can do."
Motorsport is in Evolution's blood. The staff owns a competitive off-road vehicle and had considerable experience creating hyper-realistic off-road environments for the WRC franchise. Their concept pulled together different strands of motorsport game – rally, ATV, motocross, truck – and let them race together.
Adds Benson: "Games are about escapism so we needed an iconic location, somewhere you can't get to in real life. The racing sim tradition is to invent a location and produce a gravel level, snow, desert levels and so on. I was interested in the approach taken by Grand Theft Auto which makes a virtue of a specific location then reflects that across everything they do from box art to game."
Monu-mental!
From a wishlist that included the Pyramids and the jungles of Angkor Watt, Cambodia, the team found the idea of racing across the mesas and buttes of Arizona's Monument Valley inspirational. Not coincidentally is it also one of the world's premiere movie icons, the backdrop for countless westerns and action films from Stagecoach to Thelma & Louise and Mission Impossible.
"Since few people will have Blu-ray DVDs to play back on the console at launch we wanted something that would demonstrate the cinematic potential of the PS3," says Benson. That meant HD, a technology that both Benson and senior simulation engineer Ian Bickerstaff had prior experience of as designers of British Aerospace flight simulators. Through a BAE job Ian had met technical consultant and DP Mike Brennan and brought him onboard to shoot the key reference material from a Eurocopter EC130 over the national park using the Cineflex V14 stabilised camera with 4.7mm wide angle zoom.
"Traditionally you gather thousands of still photographs as reference for world building," explains Bickerstaff. "But you always find that crucial details are missing so high-res footage becomes invaluable. The Cineflex has the advantage of being able to record all day rather than in 20 minute bursts which is the limitation of the Wescam."
mudlarks
A crew had already captured aerial stills from a Cessna but the main three day shoot with helicopter film specialists Helinet was intended to generate HD footage for an opening movie sequence plus an array of reference material on which to compile CG racetracks. Bickerstaff found the more intriguing gameplay landscape in a southern part of the park, away from the familiar tourist views and accessible only by helicopter.
"It wasn't as immediately cinematic but it had contrasts of terrain, dried rivers beds and canyons ideal for varied gameplay," he says. "A flash-flood has occurred just as we arrived so the first thing we saw is this glorious rainbow, a dramatic image that stuck with us."
The rain also revealed the desert as a superbly muddy place to stage a rally. Where PS2 motorsport games had been characterised by showroom vehicles with perfect light reflections and neat race lines, Evolution "wanted to do dirt," declares Benson. "Let's put mud everywhere and really emphasise the interplay of vehicles, the grunge atmosphere and the dirt of the track."
Cars are customised to incredible detail and players can freeze-frame crashes at any point, fly around 360 degrees and zoom in on dozens of pieces of flying exhaust, wheel or suspension. Sheer mathematical grunt ensures that millions of mud pixels will paint themselves to the car should they come into contact with each other. That's a far cry from the PS2 where limited particle physics meant little puffs of dust that disappeared as soon as they arrived.
To capture the landscape's stunning dark orange to burnt red colouring the team concentrated the shoot at sunrise and sunset recording around 10 hours of images at 30fps onto HDCAM SR at full 10-bit RGB. "HDCAM SR offered that extra bit more information and colour depth over HDCAM," adds Bickerstaff. Additional in-car point of view shots from a Sony HDV Z1 and HC1 were recorded from a Humvee support vehicle. "Our permit pretty much permitted us to go anywhere apart from a couple of mesas which are still revered as sacred by the Navajo," notes Bickerstaff.
Back at Evolution's Runcorn studio Bickerstaff rigged a make-shift edit suite, hiring a SRW1 recorder and digitizing the footage via a Blackmagic Design Multibridge Pro onto an external, networked storage drive: "You wouldn't configure it for TV editing but it was ideal for what we wanted." Low-res NTSC frames were made available to the world builders for them to refer to in initial track design with full 1920×1080 clips sourced if needed.
mesh it
The first tracks (a vertical drop, a river bed, a race over the peaks) were roughed out as a polygon mesh with basic textures using the HD footage, concept art, Google Earth satellite elevation data and catalogues of photographs. "Game play has to win over realism," says Benson. "We'll start off modelling a mesa correctly but if a corner is too tight for the speed we're travelling at we'll terraform it slightly".
Since the geology and climate varies considerably from desert floor to 300 metre high tabletop the team were careful to reference the way the ground looked. "If we select a piece of vegetation we'll ensure it's planted in the appropriate pebbly ground or surrounded by suitable plants," Benson explains.
"Once we know the tracks are good to play we build upwards from that, increasing the textural complexity and particle physics".
A central decision, made to retain the highest possible image fidelity and to really elaborate the Monument Valley world, was to put all multi-player gameplay online.
"We wanted no compromises in saying "This is what the PS3 can do", explains Benson. "Shooting HD was tricky at that time because the technology was so new. Trying to get footage into an edit suite was a minefield. Exporting data in and out was twenty times as complex, render times were significantly longer. We had new graphics cards, upgraded from 3dsMax to Maya; we had to build a whole new set of renderers, shaders and other tools from scratch and ask our coders and designers to learn a whole new set of skills just to produce this".
Aside from reference material for building the game at 720P the HD assets were used to create an intro movie for which Realtime UK added CG overlays and a CG movie behind the user interface created by Ark VFX. Evolution also introduced a neutral grade sequence of the helicopter flyovers as an 'extra' to challenge any doubters about the landscape's authenticity.
"It's so surreal we're saying this isn't a made-up moonscape," says Benson. "We've created an accurate representation of Monument Valley".
live-fi!
To maintain the filmic theme Motorstorm features credit sequences, DVD-style menu settings, extras including a 'making of' and the voice of Hal Douglas the familiar theatrical trailer announcer. "PS3 is not just about the technology. It's also a mindset", says Benson. "Motorstorm is intended to look and feel like a movie which meant that a narrative was important. There had to be a reason to be racing in Monument Valley".
The lifestyle wrapper that pulls the races together is an 'organic music festival' a sort of Mad Max meets Burning Man party by night and no-holds-barred extreme sport by day.
Instead of simply replaying studio tracks Evolution turned to audio experts Media Mill to help them remix select music from the likes of Nirvana, Primal Scream, Kings of Leon and Queens of the Stone Age using 'live-fi', a novel technique which introduces background crowd noise, vehicle or helicopter rotars to mimic the feel of live performance. The soundtrack was reproduced in native 7.1, something that the team was only recently able to test due to the lack of a compatible amp.
The festival concept is also intended to inform the online experience, downloads and provide a springboard for sequels.
"PS3 isn't a music or DVD player or a games machine," stresses Benson. "It's all of those things and we wanted to bring all of those together. In the future offline/online distinctions will blur so you can imagine seamlessly blending real world data such as weather conditions or new players directly to the console. All in HD of course".
Shooting the footage in HD
DoP Mike Brennan controling the Cineflex on board
Mike preps the CineflexWhen all round guru tech whizz Ian Bickerstaff called to say he had an "interesting aerial shoot" I had little idea that it would involve some of the most creative aerial shooting for CGI attempted on High Definition or any definition for that matter.
Armed with a powerful EC130 helicopter and a nose mounted Cineflex V14 the stage was set for a remarkable shoot in Monument Valley.
Following pre-production meetings with Evolution, Ian created a remarkable photorealistic plan of Monument Valley for us to use to create a shooting schedule. We created a custom camera setup and each aspect of lens, camera and recorder was meticulously chosen to fit into the Evolution workflow which they had created from the ground up for the shoot.
I chose a wide angle lens which we calibrated in the hanger. We decided to closely track a thunderstorm from our departure point which was a few hours flight away from Monument Valley, a risky strategy because rain on the lens is a pain and unless the sun breaks through the skyscape can be quite dull.
But since Motorstorm is all about edge and contrast we raced the storm and were paid off with remarkable scenes as the storm began to ease just as it and we arrived in monument valley late afternoon.
As I hoped the dynamic weather created beautiful and dramatic scenery, right out of the box. We spent weeks getting the right permissions and understanding the layout of the valley so once we were airborne flying around Monument valley was akin to being a kid in sweet shop. Something to shoot in every direction. With just an occasional tourist to avoid we could fly when and where we chose at any height or speed.
Next morning we arose early and took off for the sunrise shot hen carefully went through the main shot list. The biggest problem was gauging the scale of the buttes which range in height from 400 to 1000 feet.
One of the shots called for a precise orbit that took 14 minutes to fly that was later to be ramped. The beauty of working on tape was that after the take we could assess the shot so the production team pilot and myself could fine tune and explore this and other creative concepts.
A lot of the time the camera was tilted up and cloudscape helped create a three dimensional look. Evolution studios Martin Kenwright gave us the opportunity to do a 'mad hour'.
It was here that the Cineflex shone being able to pan at high speed and keep subjects in frame as we flew overhead at low level, the wide angle lens sucking in the distant horizon into a fishbowl effect and the fast 360 degree pans, sometimes with the camera upside down created moments of utter madness such as a shrub or geological feature appearing to float in the fishbowl as the world spun around it.
I could go on but you can get the picture by the quote from our Veteran Hollywood pilot who described the flying as "awesome".
It is fitting that since the launch of Motorstorm that expression has also been used to depict the game itself.
We explored using the landing light as though it were a motorbike headlight racing down a track. At some points I used the camera control like it was a games control, imagining some of the characters I had been shown in preproduction racing within my picture.
The interesting aspect of the games industry is that its so new, it has more creative scope energy and budget than mainstream TV which is mostly re-inventing tired old formats.
Companies like Evolution are creating new genre and are savvy enough to know how to exploit it both creatively and technically.
Next time the phone rings from a games company they don't need to tell me what they are up to, my bags and flying helmet are already packed!
Michael Brennan