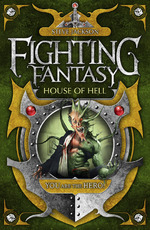 Fighting Fantasy Book Series Gets Green Light in 3D
Posted on May 20, 2010 by Alex Fice
The Fighting Fantasy series is still in print and comprises over 70 titles. They have been translated into 17 languages and published in 27 countries. Now the films will be made in three different formats – 3D digital/Bluray/Online
Steve Jackson's horror adventure House of Hell , a best-selling title from the multi-million selling Fighting Fantasy series of interactive gamebooks is to start pre-production at Pinewood Studios. Exclusive production rights have been secured by UK based Superteam Productions. Ian Paterson, MD and founder of Superteam Productions announced:
"The first book in the world-renowned Fighting Fantasy series to get the big screen treatment is House of Hell.  This is the story of a stranded young couple who seek shelter at an old house in the middle of nowhere. They soon find the house is not all it seems….
The Fighting Fantasy Gamebook series, created by Jackson and co-author Ian Livingstone in the 1980s, became a playground craze amongst 8-16-year-olds around the world. Through a clever and often complex 'choose your own path' mechanic, these stories set the Readers as Heroes, starring in their own unique adventures. The Fighting Fantasy series is still in print and comprises over 70 titles. They have been translated into 17 languages and published in 27 countries. As a brand, Fighting Fantasy has been the most successful interactive book series in the world, having sold around 20 million copies to date. Successful merchandising spin-offs have included figurines, a magazine, eBook, board games, videogames and mobile phone applications.  A major re-launch of the books is scheduled for 2010.
"Steve Jackson and Ian Livingstone turned down other film and TV offers whilst waiting for the right production company to come along." explained Ian Paterson. "They wanted to find someone able to deal with the interactive nature of their books; a company that could do justice to this worldwide phenomenon. I am proud to announce that they chose Superteam Productions, based here at Pinewood Studios, for the task."
"Superteam will be turning the House of Hell adventure into a major feature film unprecedented in scope. They will also be creating an interactive version on Blu-Ray. This is a huge task and unlike other interactive DVDs, House of Hell will boast new technology that will give the viewer the chance to collect items, fight and even have their game scores uploaded to the Internet.
Further to its Blu-Ray and cinema releases, Superteam will be creating an online version of House of Hell to coincide with the relaunch of the book.
"The online version will be interactive and will allow viewers to choose their own paths like the Blu-Ray version." Paterson continued. "But clues will be hidden within the online adventure. Playing online incurs a small download fee per segment. But if viewers find the clues they can win valuable cash prizes. We are currently in talks with mobile content providers to push the segments on to phones, allowing everyone to download and watch the film."
Warlock of Firetop Mountain" will be the next book-to-feature-film project from the Fighting Fantasy series.
Superteam Productions are currently screening Actors and Distribution partners for House of Hell.
More information can be obtained from the website www.houseofhellmovie.com.